Home Improvement
My New Batcave - Home Office Makeover
I'm working full time at home and decided to remodel my office.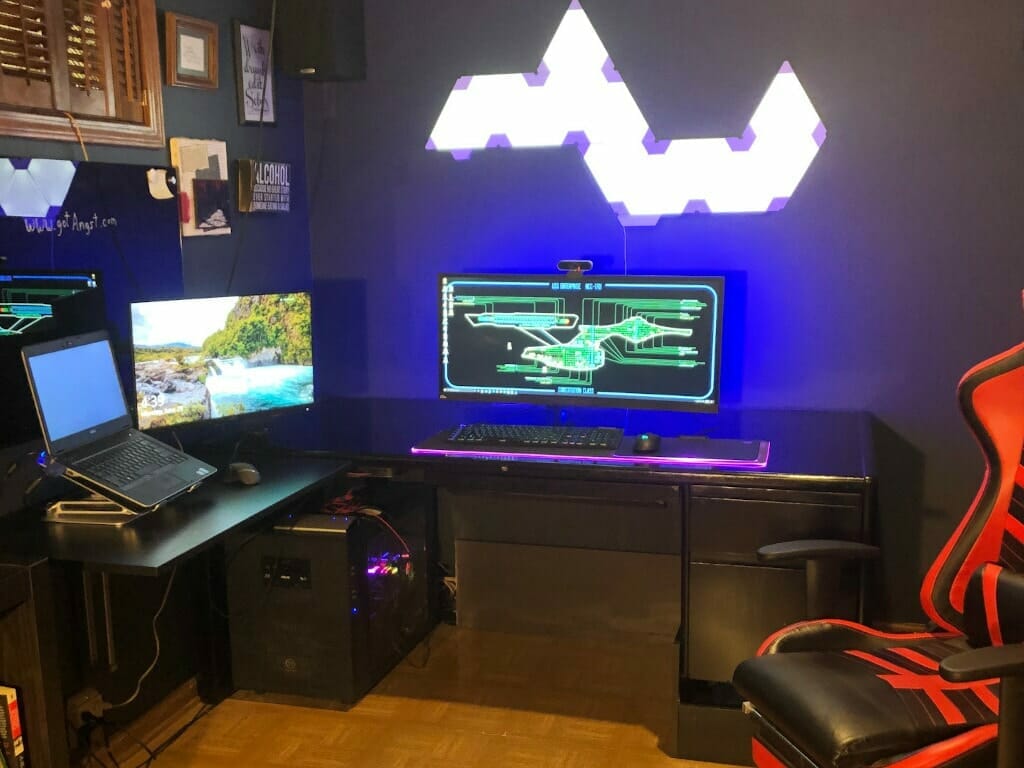 My office is a great getaway of memories, old furniture, file cabinets filled with comics, and shelves of books. It's been the perfect spot for everything from LAN parties to writing. Thanks to social distancing, I now work at home full time for my day job. That's a lot of hours in the basement, and my office was starting to close in on me. I also needed more space to play virtual reality games. I still love my Batcave, and that's why I had to destroy it.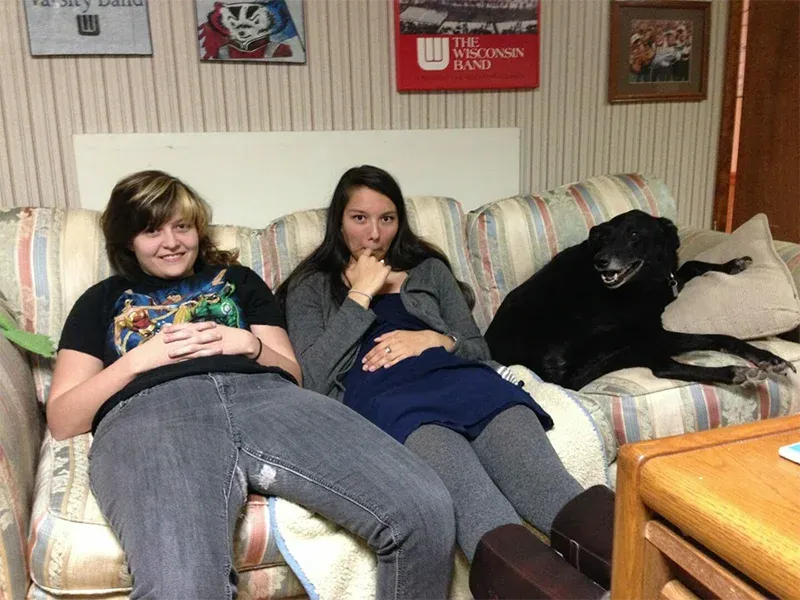 Virtual reality requires a lot of space for dragon slaying, zombie killing, or in my case, flailing around the room. My office was crowded with a lot of everything including a sizable desk against the back wall and a bigger one in the center of the room. The first step was to empty the room as much as possible. It took a herculean effort to remove the books, collectables, photos, posters, and furniture. Now that it was empty, I still had a problem.
Painting the Walls
My best friend and muse, Cristi, hated my wallpaper. (Actually, she hates all wallpaper. Removing wallpaper is the 8th level of hell so I can't argue.) To appease my muse, I spent several weeks stripping wallpaper and patching the drywall. When it was time to paint I googled for popular office colors since I'm color blind and have no taste. I quickly decided on Blue Note by Benjamin Moore. After the room was painted, it was time to tackle the shelving and furniture.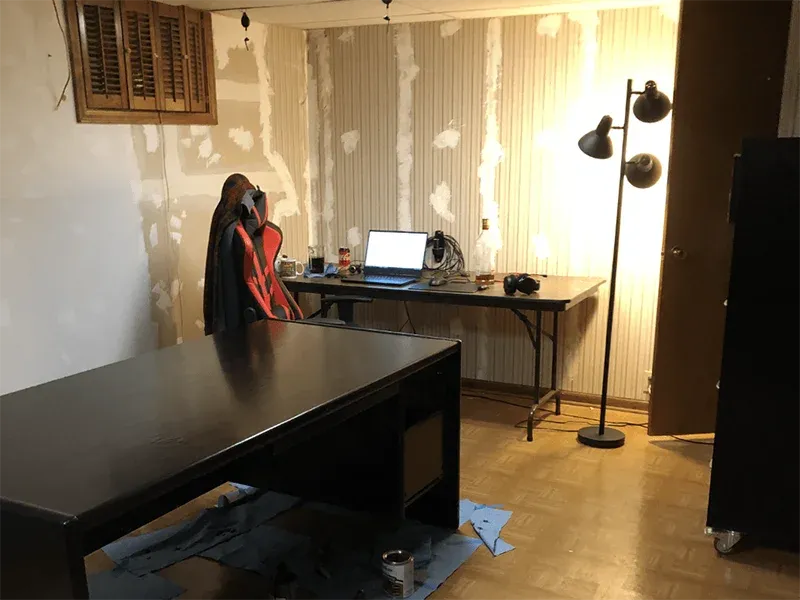 Cube Storage Bookshelves
The bookshelves in the front of the room were too wide. If I wanted to open the closet doors all the way, I'd have to move the speakers. The 12 cube Kallax shelf unit from Ikea happened to be the perfect width. There were also two long shelves hovering over my back desk that were great at collecting dust. These are books I want within reach, so they went into cube storage beside my desk. One of the cool things about these cube storage units is how deep they are, allowing me to put a row of books in the back.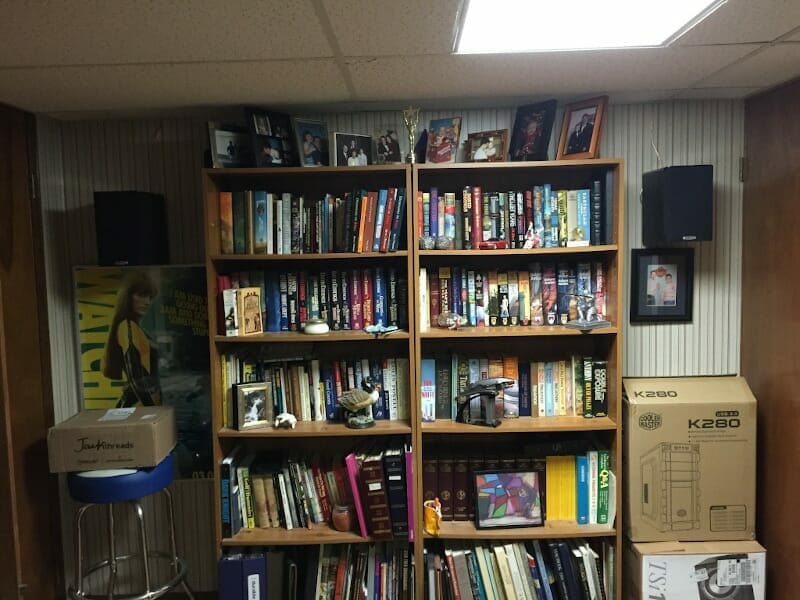 Ebonizing my Desk
My hand-me-down desk came in two, heavy, oversized parts. They are old, oak beasts that will probably survive Armageddon. I threw out the smaller one and refinished the monster. I took a stab at ebonizing it and used India ink instead of traditional stain. It was my first time using ink on wood and it didn't turn out exactly as I had hoped, but it cleaned up a lot. The desk is now against the back wall leaving the room wide open.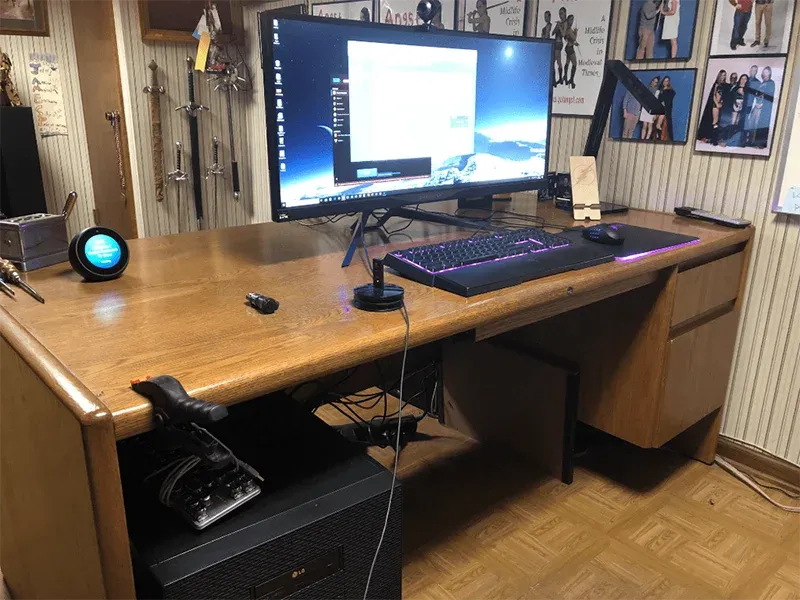 Monitor Arms
That left the most crucial part, my workspace. I wanted my refinished desk to be clean, and by clean I mean empty. This was a challenge. My desk was a mess of keyboards, mice, laptops, monitors and cables – lots of cables. Some for work, others for David, and all taking up space.
Monitor arms are a gift from the gods of engineering. You can buy monitor arms that mount on your desk, which is great if you aren't able to attach them to the wall. I went with two Amazon wall mount units that are strong enough to heft my 34" Ultrawide. Not only were the monitors off my desk, I can push them against the wall when they aren't in use, and even spin the 24" 90 degrees.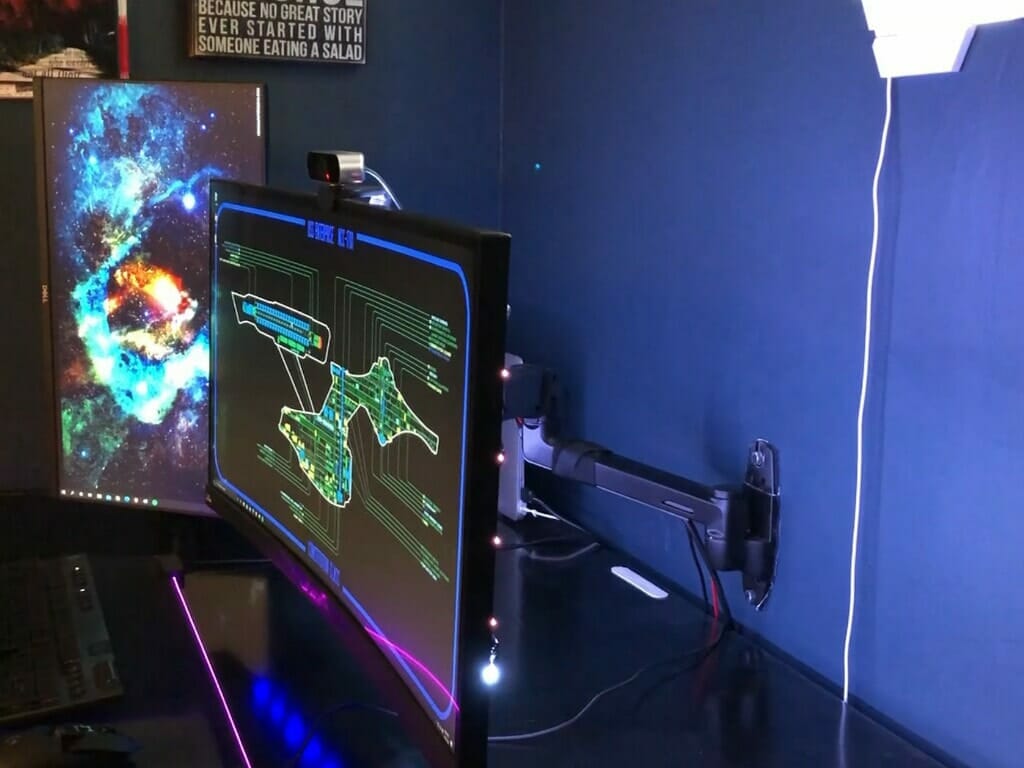 Drop Leaf Table
To reduce laptop clutter, I installed a Bjursta drop-leaf table from Ikea beside my desk. It was the perfect size, the right price, and convenient to hide when not in use. If I use it for my work laptop, the 24 inch monitor can slide right over like I meant for that to happen.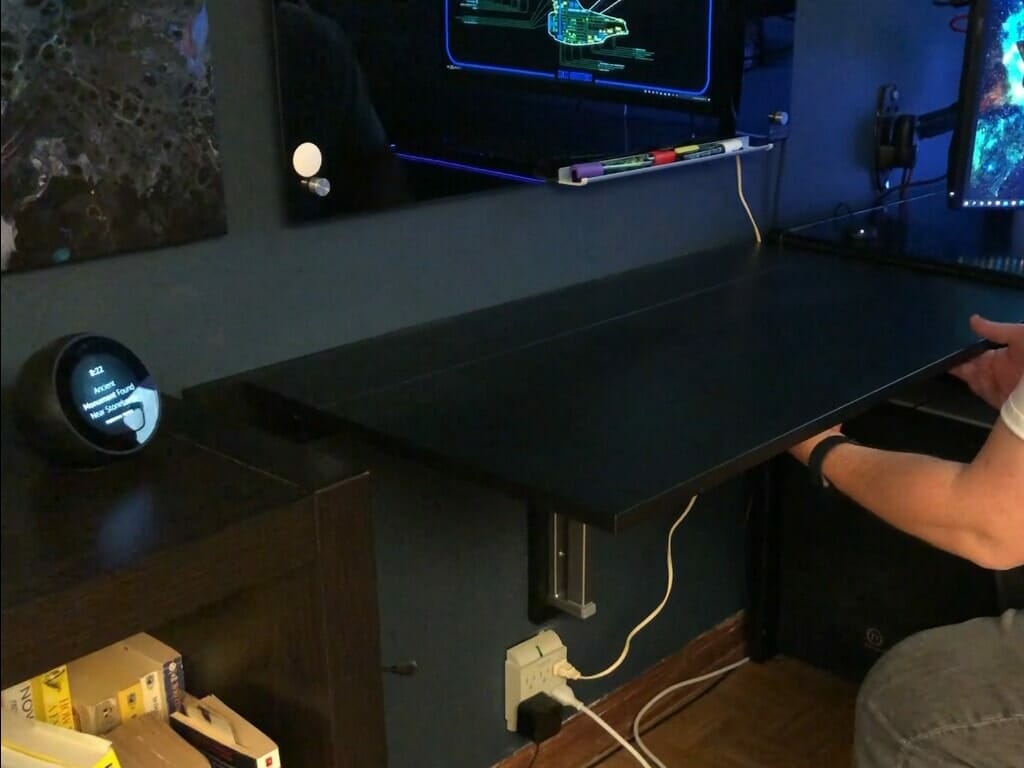 Going Wireless
My peripherals are now all wireless. I got a Logitech G903 mouse for my birthday that never runs out of power thanks to the Powerplay wirelessly charging mousepad. I replaced my Razer Ornata keyboard with a G915 from Logitech. The G915 is insultingly expensive, but I chose it for several reasons. It's a mechanical keyboard which, hopefully, means it's durable and will last. The keys are low profile, and I went with the linear model which means I don't have to struggle typing on bad Parkinson's day. It's a joy to type on, and looks sharp, but I'm hesitant to recommend it solely because of the price.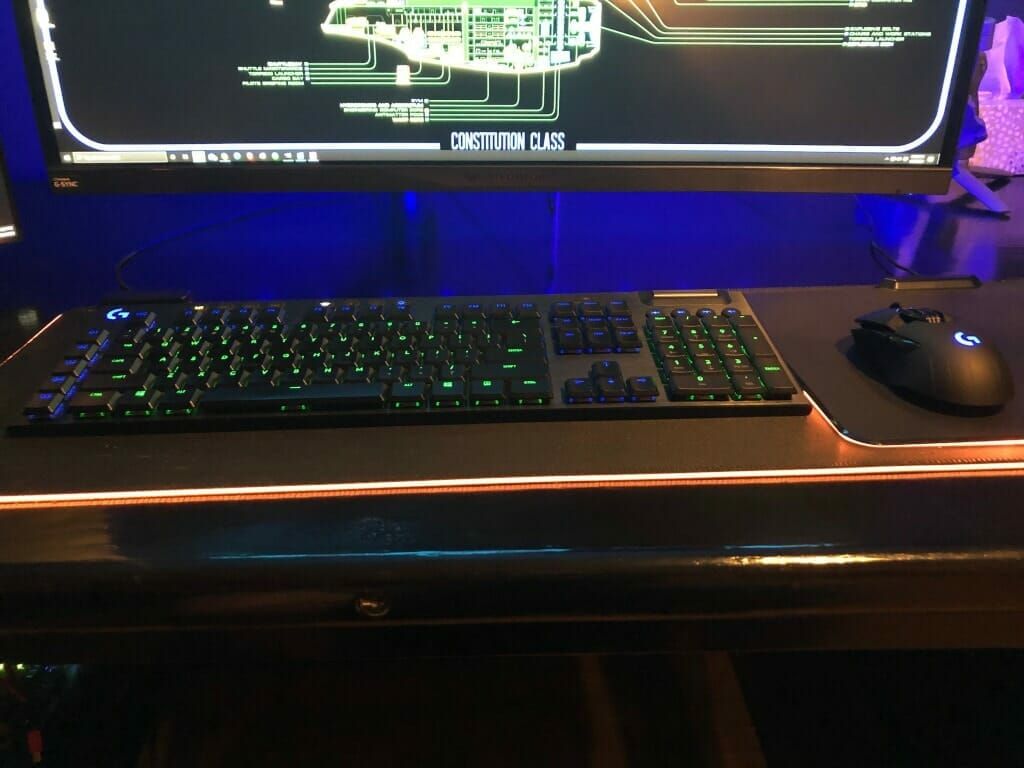 Listening to Tunes
My headsets hang from bathroom hooks I added to the cube storage unit behind my desk. I purchased an Arctis 7 wireless headset in January that I can't recommend enough. The sound is impressive, the battery lasts forever, and it's the most comfortable headset I've ever owned. I experience no ear fatigue if I wear it for hour-long conference calls or gaming sessions. The red headset is an inexpensive corded model that can be used as backup.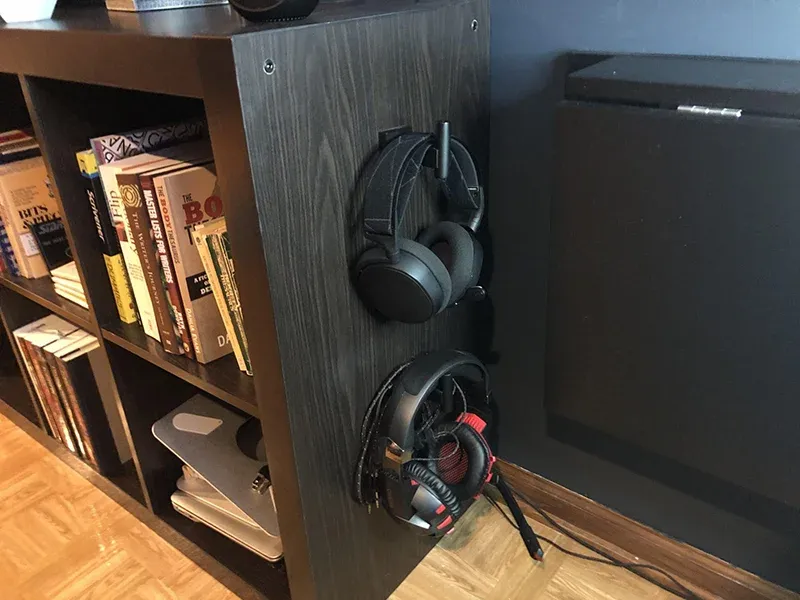 I listen to a lot of music when I write, but don't always want to wear headphones. Several years ago I built shelves into my closet wall for stereo equipment. My computer connects to a Yamaha receiver with a digital audio cable. The receiver powers seven speakers and a subwoofer. A bit overkill for such a small room, but a lot of fun.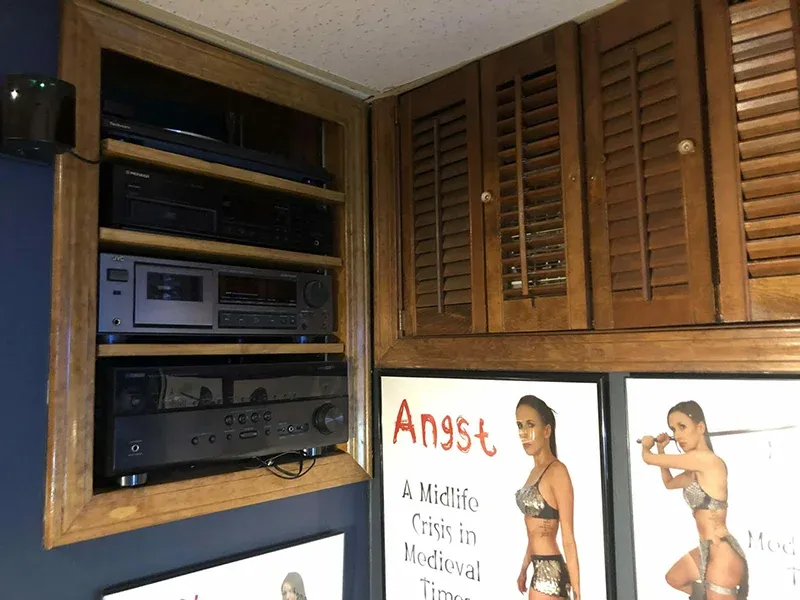 Nanoleaf Light Panels
My other eccentric purchase was Nanoleaf light panels. My decorations tend to be collectables, pictures of friends and family, and posters featuring my muses. Ambient lighting was not on my list. The RGB lighting craze is still growing on me. My CPU, watercooler, memory, keyboard, mouse and mouse pad all glow, rotating through a myriad of colors that can react to events in games. The 9 piece Nanoleaf kit not only syncs with my other peripherals, it pops to music and works with Amazon Alexa. The ambient lighting is really nice, and now when I say, "Alexa, turn on the Batcave," a lamp in the back of my office turns on and the Nanoleaf lights come alive. I dig it. (Insert nerd snort.)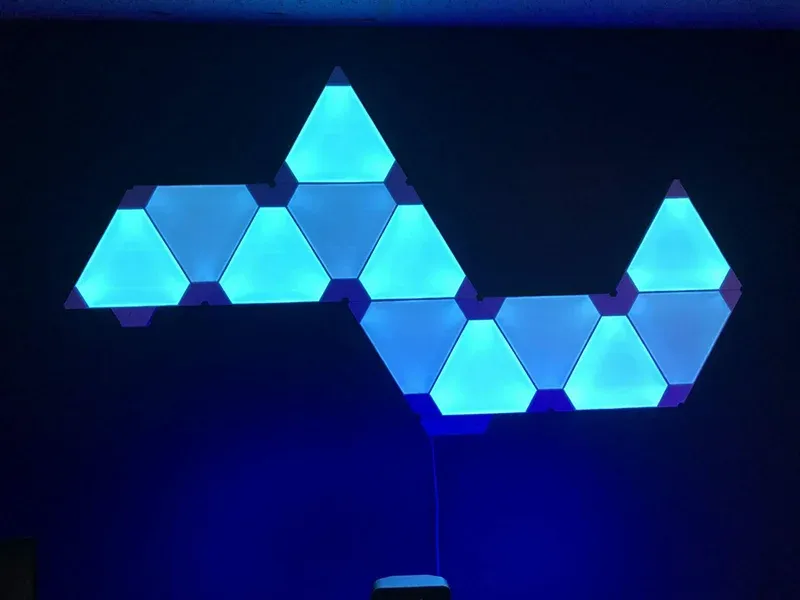 A final few touches include new outlets and switch plates, ebonized boards with hooks to hold my VR headsets, a second Ikea drop-leaf table for projects and LAN parties, and a glass blackboard for notes.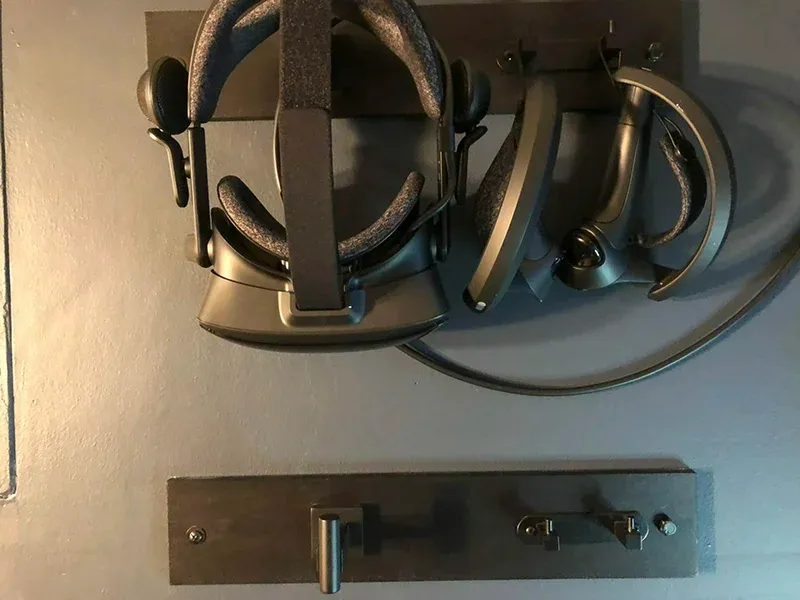 My New Batcave
A lot has changed, but it's tidy, efficient, wide open, and everything I love is still here. My wife found the transformation inspiring and has started performing surgery on her office. She thinks mine is a little dark (like my soul! Which character am I going to kill next? Mwa ha ha! Er, sorry, not sure where that came from) but I think Batman would approve.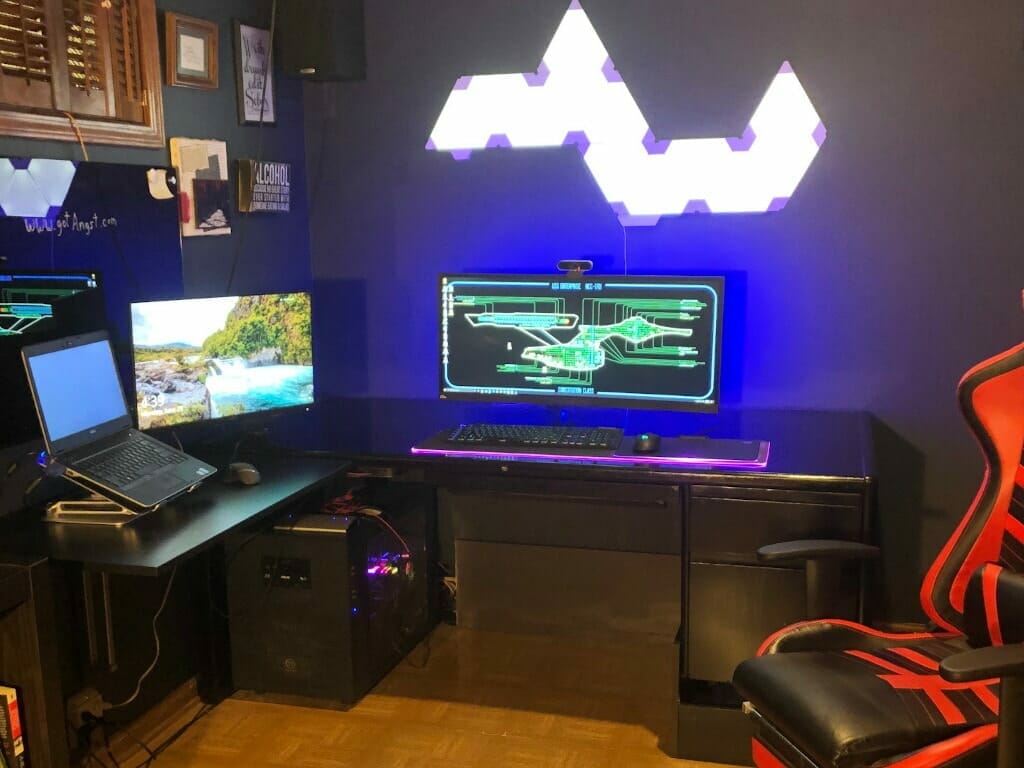 What do you think of my new Batcave? Be sure to leave a message below with your thoughts, ideas, and any questions you might have.