Writing Update
A New Audiobook, A Convention, and A Writing Update
Announcing the Colonize Epiales audiobook release date and more.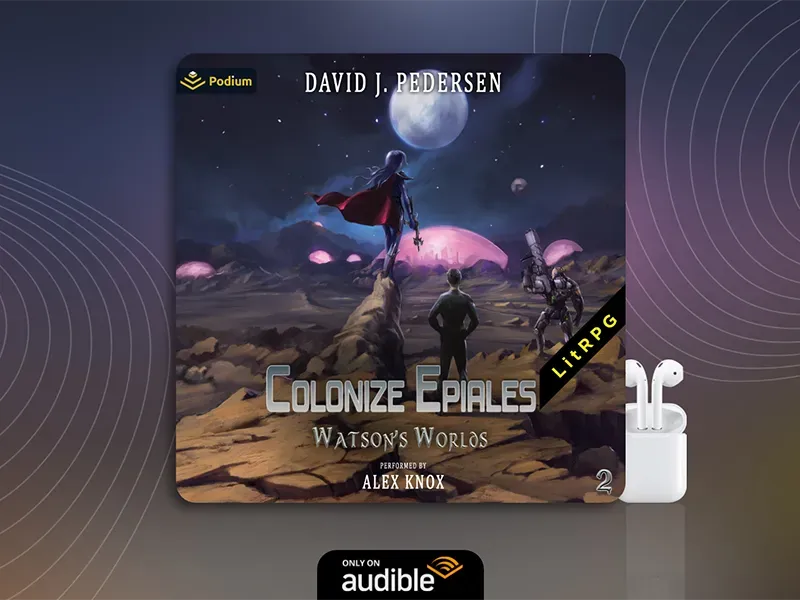 I've hit the pause button on writing Battleworld Titus, the third Watson's Worlds novel. The story is coming along well and I like the characters a lot, but this one is like the third bowl of porridge - it has to be just right.
Everyworld Online, the fourth book in the series, is going to bring together characters from Battleworld, Entriss Online, and Colonize Epiales. I've got a pretty good idea where I want the story to go, but that's a lot of characters and I don't want it turning into a hot mess.
The next few weeks will be all about plot development and outlining Everyworld. My outlines are living documents that change as I get new ideas, but this will give me enough direction so everything fits. So far, it fits like a custom tailored suit and I'm having more fun than I expected.
When the outline is done, I'll be back to writing Battleworld Titus. I'm looking forward to both, right after a fun weekend.
Demicon
This will be my 11th year attending Demicon and I can't wait! Sarah is joining me for a weekend of old friends and shenanigans.
I'm signed up for three panels.
AI meets SF, Friday at 6PM
Role of Science Fiction and Fantasy in Predicting and Shaping the Future Saturday 2PM
Authors Read Mean Reviews, Sunday 1PM.
Last year I volunteered author Adam Whitlatch to join me in a panel about LitRPG — without telling him. He was a good sport about it, and he made it fun, so he'll be glad to know I signed him up for another one. Authors read mean reviews.
Here's the panel description: Join authors David J. Pedersen and Adam Whitlatch as they read mean reviews and share encounters with rude people at conventions in this hilarious panel. It's like "Celebrities Read Mean Tweets" but for authors. Come for the laughs and stay for the fun!
Demicon is in Des Moines, IA from May 5th - 7th.
YouTube
My next video will be about using ChatGPT as a writing assistant. A lot of authors are concerned about an AI takeover, and it's a valid concern. In this video I'll share my thoughts about ChatGPT, and how you can use this tool to your advantage. Be sure to subscribe to my YouTube channel so you don't miss it.
Colonize Epiales Audiobook
I have to give Podium Audio a lot of props. The Watson's Worlds series is an experiment that crosses multiple genres. That doesn't make it easy to market. Podium Audio knew this going in and they were ready for the challenge. The results have been amazing!
I've been listening, and it's good. Really good. Alex Knox does an incredible job narrating the second Watson's World book, Colonize Epiales, and his performance makes me excited to finish writing the series.
The Colonize Epiales audiobook will be available on May 25th. You can pre-order now on Audible . Be sure to listen to the sample below.
Thank You
Thank you for supporting my work, leaving reviews, and reading my newsletter. If you have any thoughts or questions, don't hesitate to drop me a message or leave a comment below.