Conventions
Why I Attended Soonercon
When I told the folks at Soonercon I couldn't be a vendor because of complications with Parkinson's, they invited me to take part as a guest at panels. I told them to sign me up, but I wasn't sure why.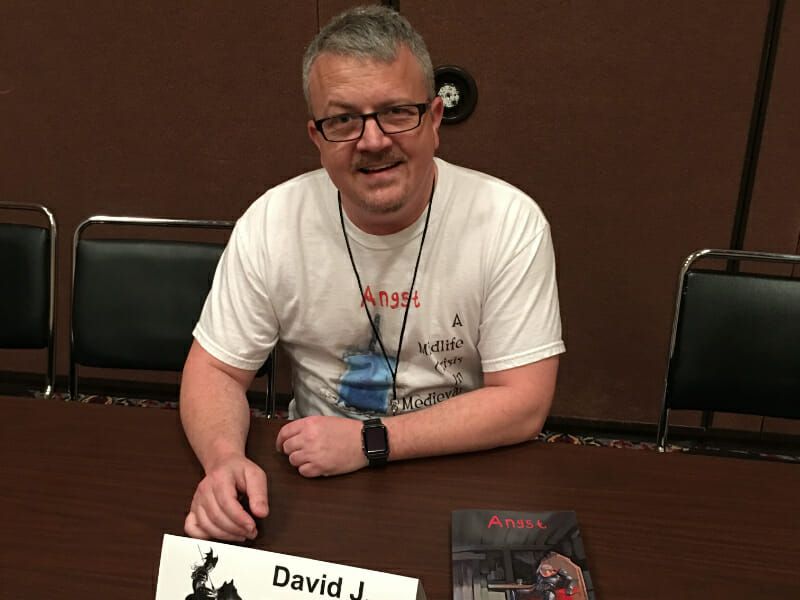 Soonercon has always surprised me in the best way. It's a very well run pop culture convention near Oklahoma City with a solid attendance of 3,000 people. Cristi and I attended our first Soonercon in 2015, and over five years I sold more books there than almost any other convention. (which is significant, considering over 100,000 people attend Planet Comicon.)
When I told the folks at Soonercon I couldn't be a vendor because of complications with Parkinson's, they invited me to take part as a guest at panels. I told them to sign me up, but I wasn't sure why.
I Had No Plan
A savvy author would've brought a truckload of fliers promoting their books, or at the very least promoted their attendance on social media. I was head-deep in other projects that I'll be announcing soon, told no one I was going, and was a little reluctant about the trip.
My lovely, and patient wife, Angie, said, "get out." Actually, it was more like, "You'll enjoy the drive and alone time to brainstorm. Maybe you'll even get some writing done." Basically the same thing.
Stuck
I had hoped the 5-hour drive to Norman, OK would give me some prime brainstorming time. The second Watson's Worlds book is almost done. I know how it's going to end, but hated my plan on how the story would get there. I've been stuck, and considering some of the personal stuff I'm dealing with, it's not a surprise. It happens, and I always figure it out, but unfortunately the  drive didn't un-stuck anything. My mental tires spun wildly the entire way there and only succeeded at creating a bigger rut.
Panels
Soonercon offers an impressive selection of panels. They scheduled me for four, a signing and a reading. The signing was in the dealer room, which was cool because a few readers found me and picked up copies of Entriss Online. I also had a neighbor, B.J. Thrower, who was great company.
The reading went well. Julia S. Mandala, B.J. Thrower, Brian A. Hopkins and I took turns, and I enjoyed all of their stories. A few lines Brian read sounded like something I would've written, but better. I look forward to reading their books.
Drinks With Authors
It was Dennis Young's first time at Soonercon, and we met in the hotel lobby for a drink shortly after the dealer's room closed. It was great to catch up, and we were soon joined by Selena Rosen, Julia S. Mandala, Phillip Drayar Duncan, his wife J.H. Fleming, and many more. I don't spend enough time with other authors and had a lot of fun.
Sunday
Soonercon slated me for two panels on Sunday. SteamLabs hosted the first panel, How To Turn Fandom Into Your Job. The conversation could have easily gone off-track, but fortunately the moderator was on point.
When it was done, a young man approached.
"Are you the author who wrote Angst?"
(He didn't throw a torn-up book in my face, which was a good sign.)
"Yes, how may I help you?"
"I bought the first book two years ago and want to purchase the rest, but couldn't find your booth."
I explained why I didn't have a booth, but told him I had the books and we agreed to meet after my last panel.
I Hate Everyone
My last panel, Wry Wit For Writers: Humorous Fiction, ended on a serious note. The moderator asked how we navigated humor without offending anyone. After a few lengthy speeches from other authors that ranged from being kind to social justice, it was my turn.
"It's easy," I said. "I hate everyone."
It earned a good round of laughter, which is always my goal.
That's When It Happened
When the panel was over, I found the young man waiting. He followed me to the lobby so I could get his books out of my car.
"So you enjoyed Angst?" I asked in an attempt to make small talk.
"I've read it four times."
I stopped to look at him.
"You're the reason I came to the con." He held out his hand. "I'm so excited I'm shaking."
It meant that much to him. Others have shared this sentiment, but I never expect it and I was moved. Sure, I write for me, but I also write for him and everyone who enjoys my books. It was the reminder I desperately needed.
All I could say was, "Thank you." I meant it from the bottom of my soul.
Why I Attended Soonercon
Talking with other authors helped me refocus, and the young man's kind words hit the reset button for my inspiration. Brainstorming went far better on the drive home than the drive there, and I have a feeling that writing this week will go very well. My sincere thanks to him, and the authors, and to you. Watson's Worlds, book two incoming.