Friends
Las Vegas Adventure 2022
I got to go on an amazing adventure to Las Vegas with my best friend, Cristi!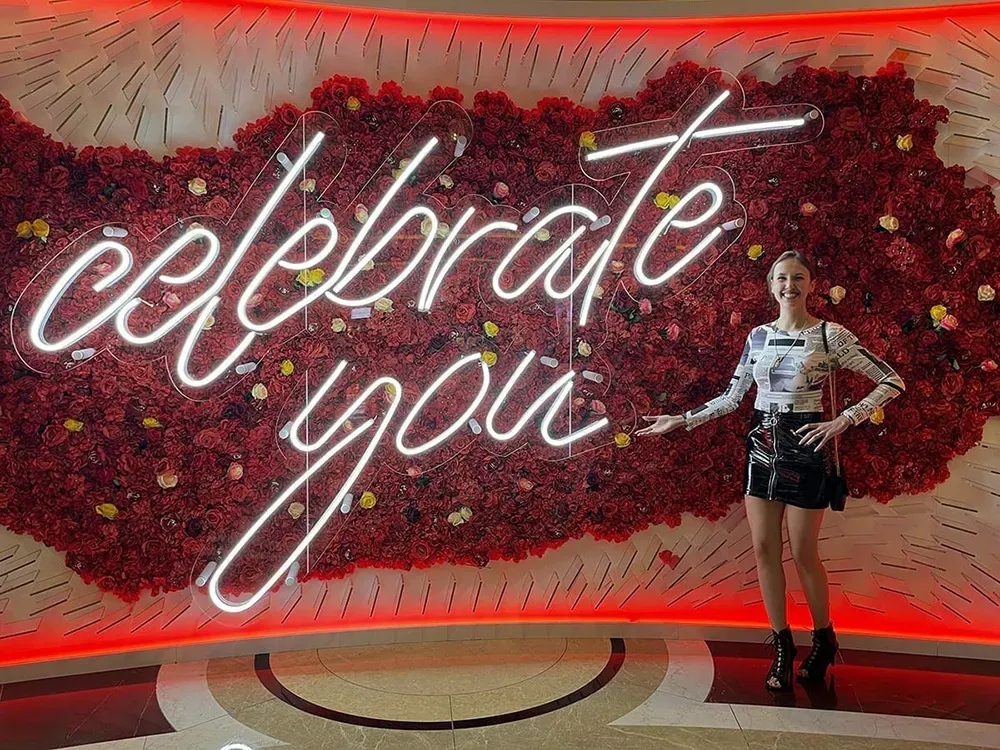 The Vegas Bug
In late 2020, the threat of COVID was waning and word spread that Las Vegas was opening up. I immediately got the bug to go.
I've been to Vegas many times over the years for work and occasionally for fun. My wife and I went 3 years ago with Cristi and her husband Brandon to celebrate Cristi's 30th birthday. It was a blast, and I was ready for round 2.
My lovely and patient wife Angie had no interest, and to my surprise said, "Why don't you go with Cristi? You guys will have a great time." Brandon, (pretty sure at this point I should refer to him as her 'handsome and patient husband') supported the idea too. It was like getting a gift I didn't ask for and never expected.
A Gift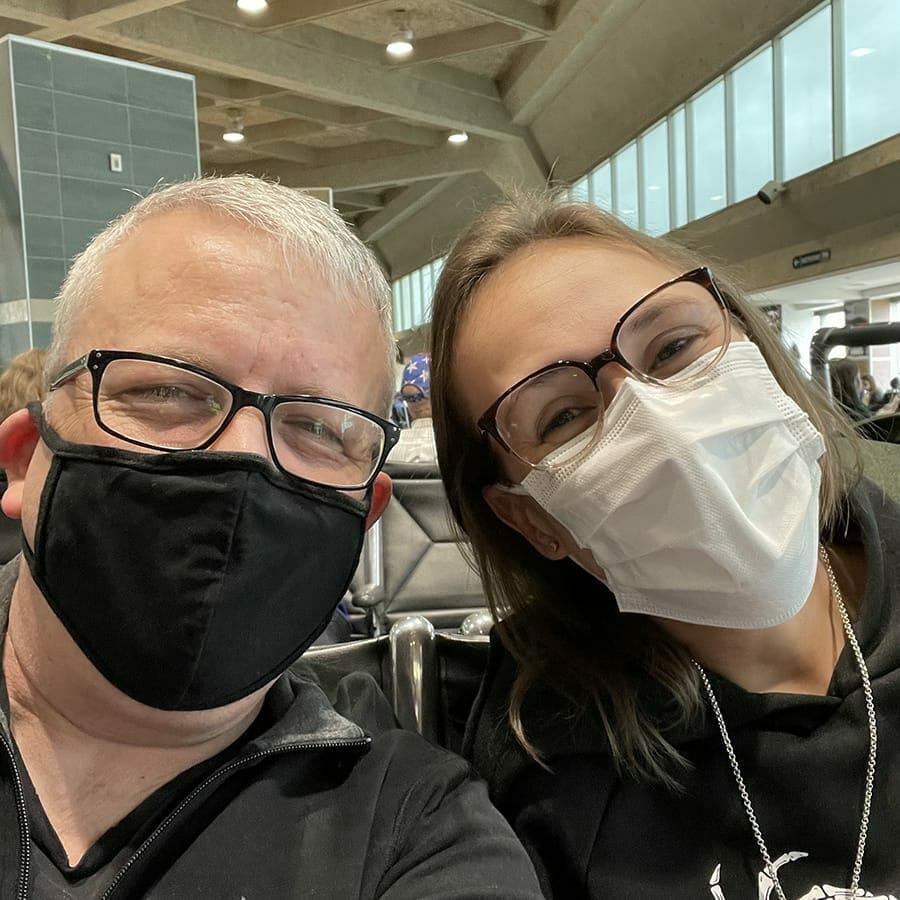 If you're new here, Cristi has been my best friend for over a decade. We've gone on many road trips, attending cons all around the Midwest. It's not unusual for us to travel together, but we've always been working. This was an actual vacation where we could just go have fun and relax. I began making plans immediately before anyone came to their senses.
Planning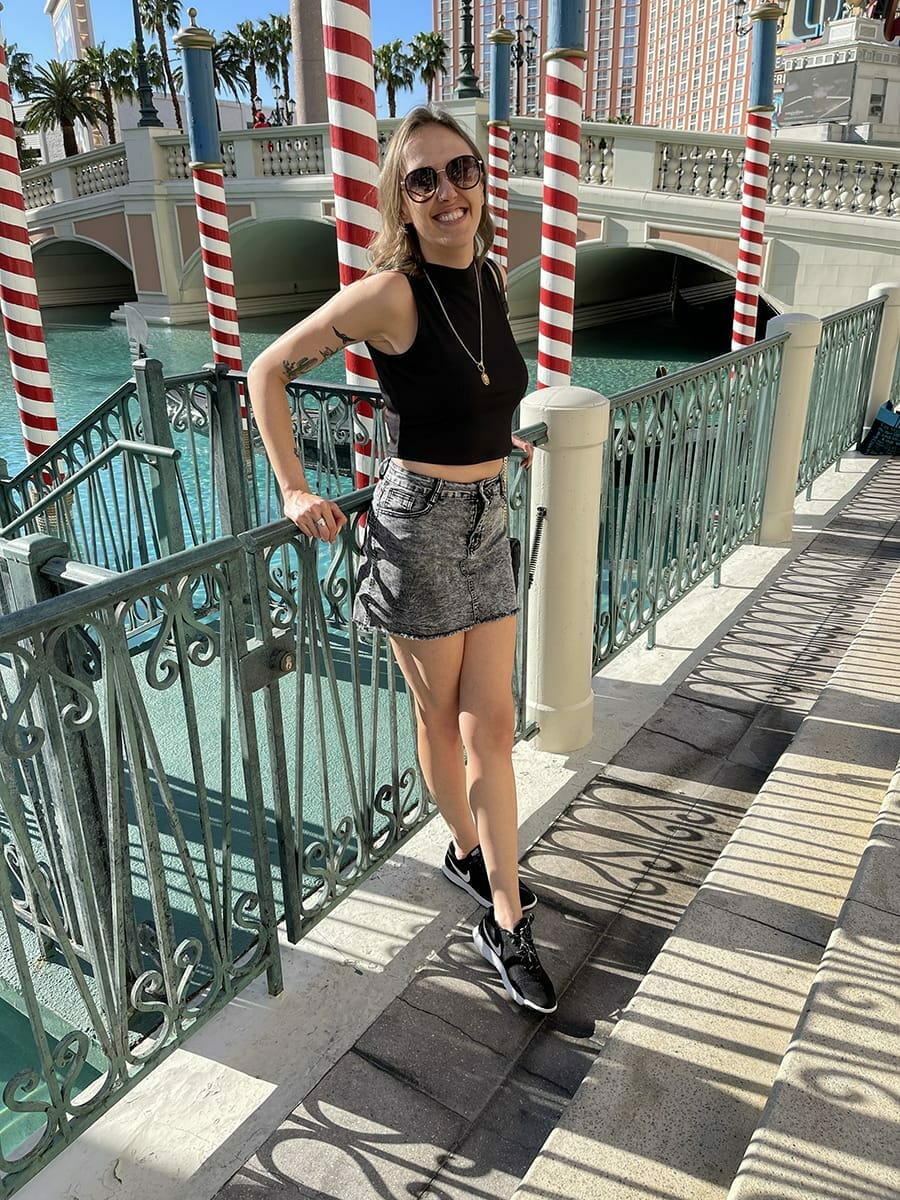 Cristi was cool with me planning much of the trip. I enjoy making those plans since it gives me something to look forward to. In my excitement, I tend to over-schedule. I learned a lot from our last trip to Vegas and tried to rein it in. By the end of February, our evenings were booked and our days were free, giving us ample time to dress accordingly.
To the Nines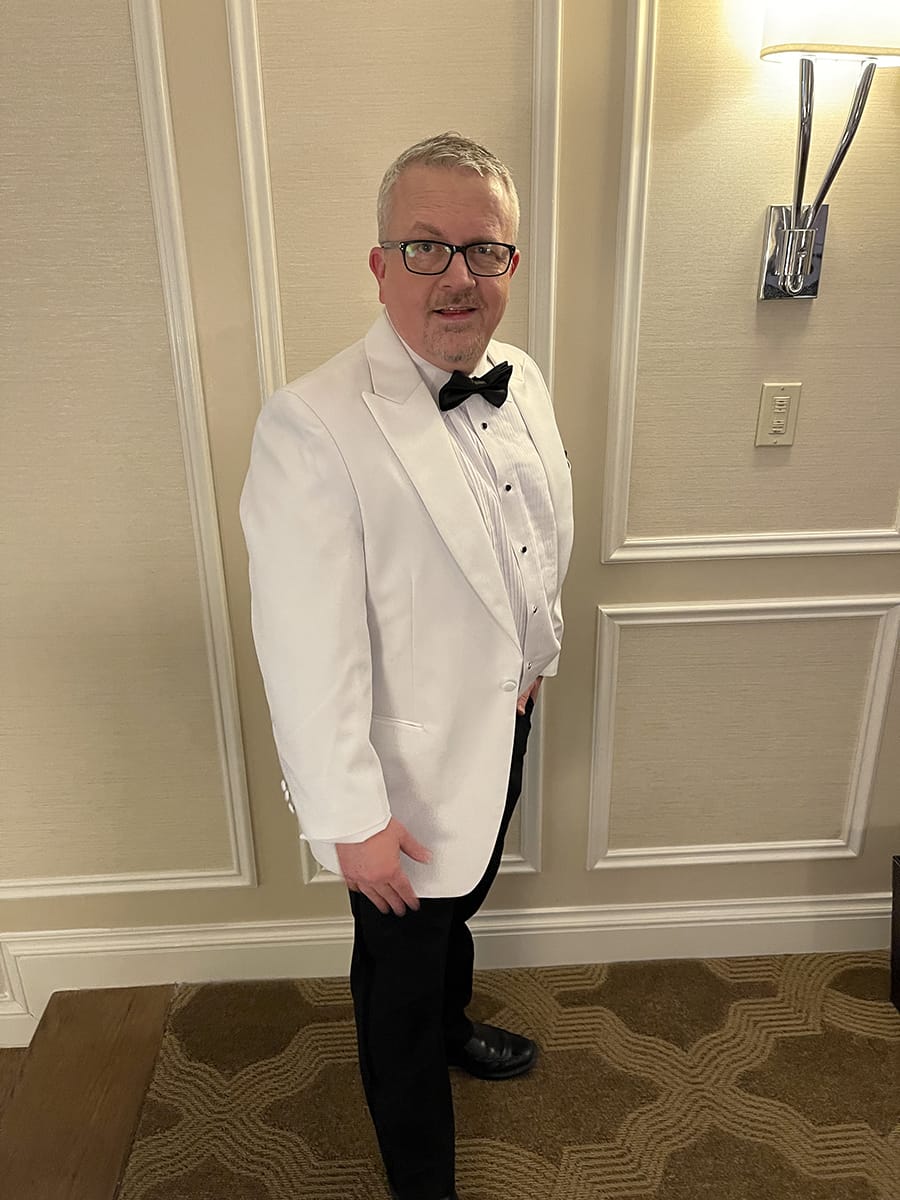 One of my favorite things about Vegas is that you can wear whatever you want. On any given day you'll see showgirls, half-naked cowboys, and Elmo walking the boulevard. Heck, If I wanted to dress like James Bond while Cristi wore an elegant gown for an evening… who would notice?
They Noticed
We had dinner on Friday night at the Eiffel Tower Restaurant followed by Cirque du Soleil "O". Both events were swanky enough to go all out, so we did. I ordered a white jacket for my tux so I could be James Bond for the night. Cristi wore a gown, and she truly owned the evening.
I love people-watching, and their reactions didn't disappoint. She lit up the room from Casino to restaurant and received plenty of compliments. Cristi said it was the dress. If you had seen how happy she was, you'd agree it was more than the dress.
A great example of this happened as we were leaving our hotel. The doorman took one look at her and waved for us to follow. "There's a long cab line and you two look like you're going somewhere important." He flagged us a ride so we could skip the line. That was a first, and I tipped him like it was planned.
An Occasion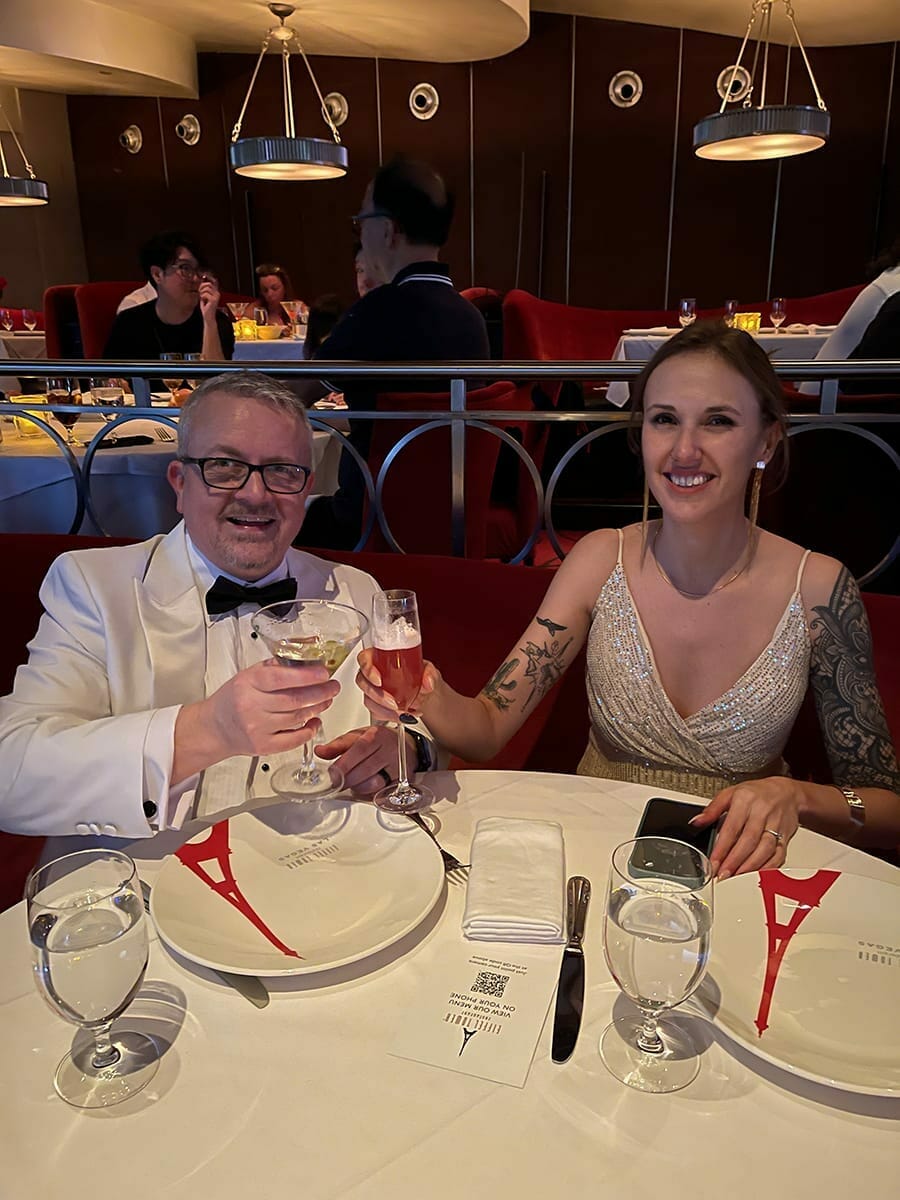 The Eiffel Tower restaurant is across the street from The Bellagio with a beautiful view of the fountain show. It was an incredibly romantic spot for someone else, and a perfect place to play dress up. This seemed to confuse the staff, who kept badgering us for "an occasion."
I could have easily told them it was Cristi's birthday, which was the following week, but I knew she wasn't in the mood to be serenaded by the staff.
I finally gave in and said, "We've been friends for over 10 years, so it's kind of our friendiversary, I guess."
This really confused our server who replied slowly, "your ann… iversary," like he was correcting my English.
"Sure," I smiled politely. "Just bring us cake."
Rascal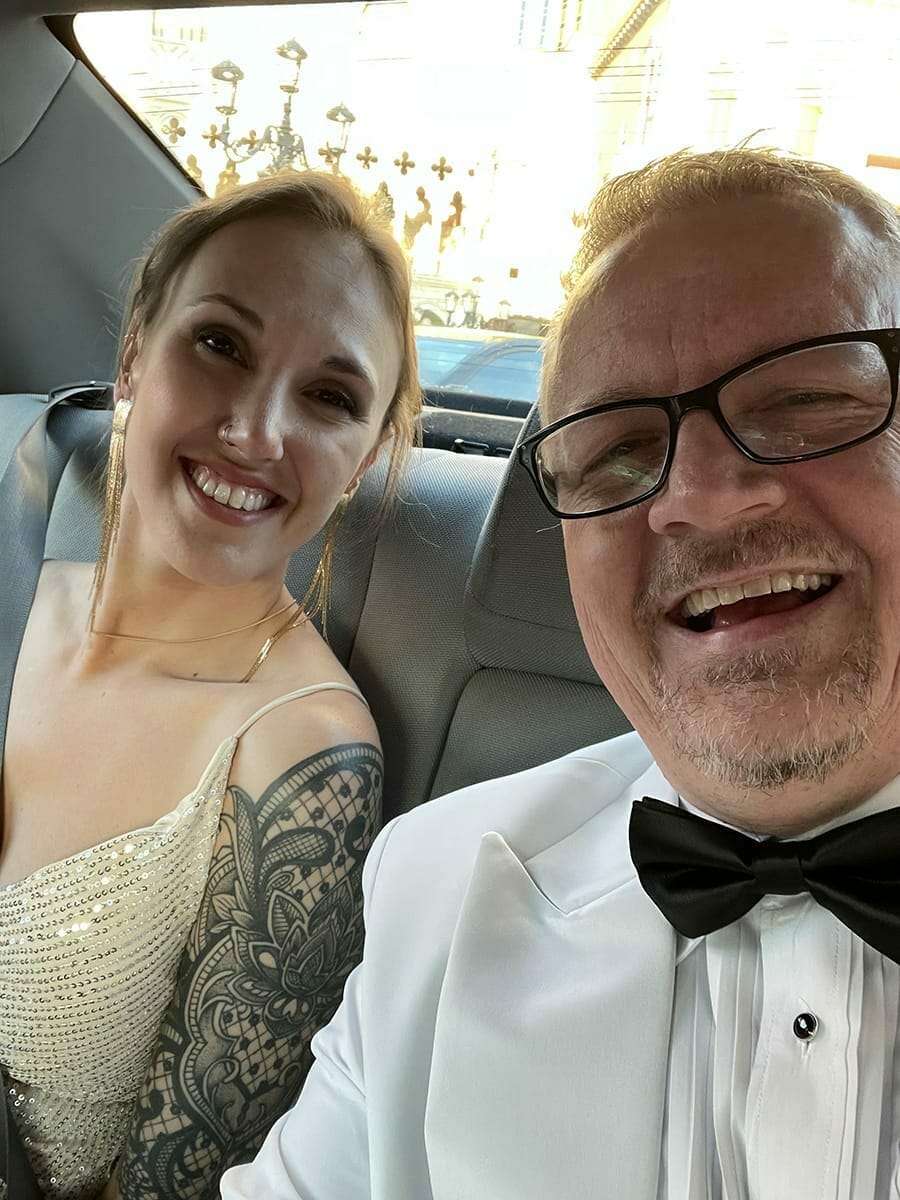 This happens. We're close, but don't hang on each other like a couple. We go out dressed nice, but I'm twenty years older. People short circuit and want to know more. It can be annoying, intrusive, or occasionally funny.
While waiting for a cab after Cirque du Soleil (which was incredible) a young guy slapped me on the shoulder, leaned in and said, "Congratulations, Rascal." He left us scratching our heads. When we figured out what he meant, we laughed about it all weekend.
Unplanned
Booking restaurants and shows in advance was invaluable for our evenings. Most were sold out well before we arrived. It was hard for me not to make plans during the day, Friday and Saturday, but I'll begrudgingly admit it was nice. We hung out, took advantage of photo ops, did some shopping and even got back in time to nap. The naps were important, especially Saturday afternoon, because that night we went to TAO nightclub.
Tao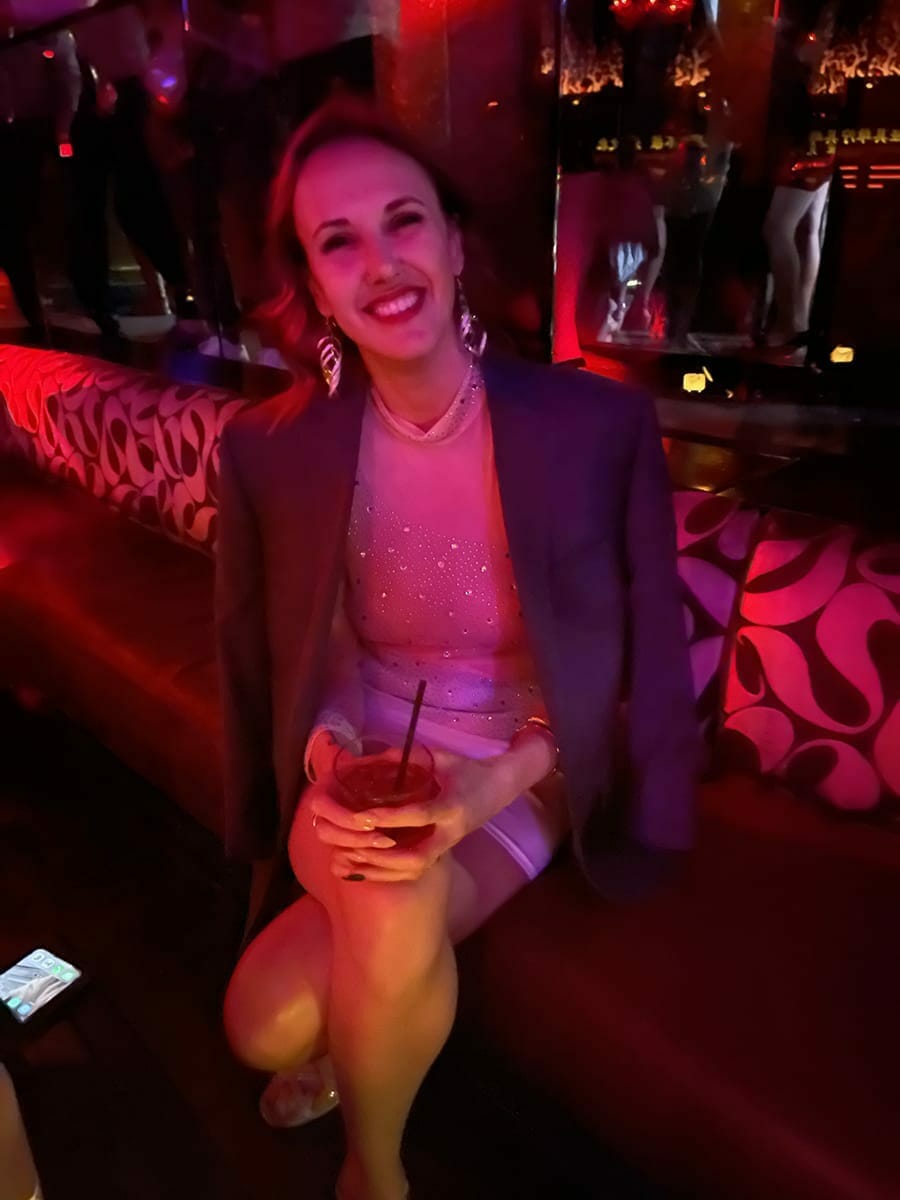 TAO was a great experience. We started with an incredible dinner at their restaurant Saturday night before going to the club upstairs.
Since I realize I'm not 20, I reserved a table with a couch. It was an excellent decision. The attentive staff introduced themselves, delivered us to our table, and spent the evening taking care of us.
Pure Energy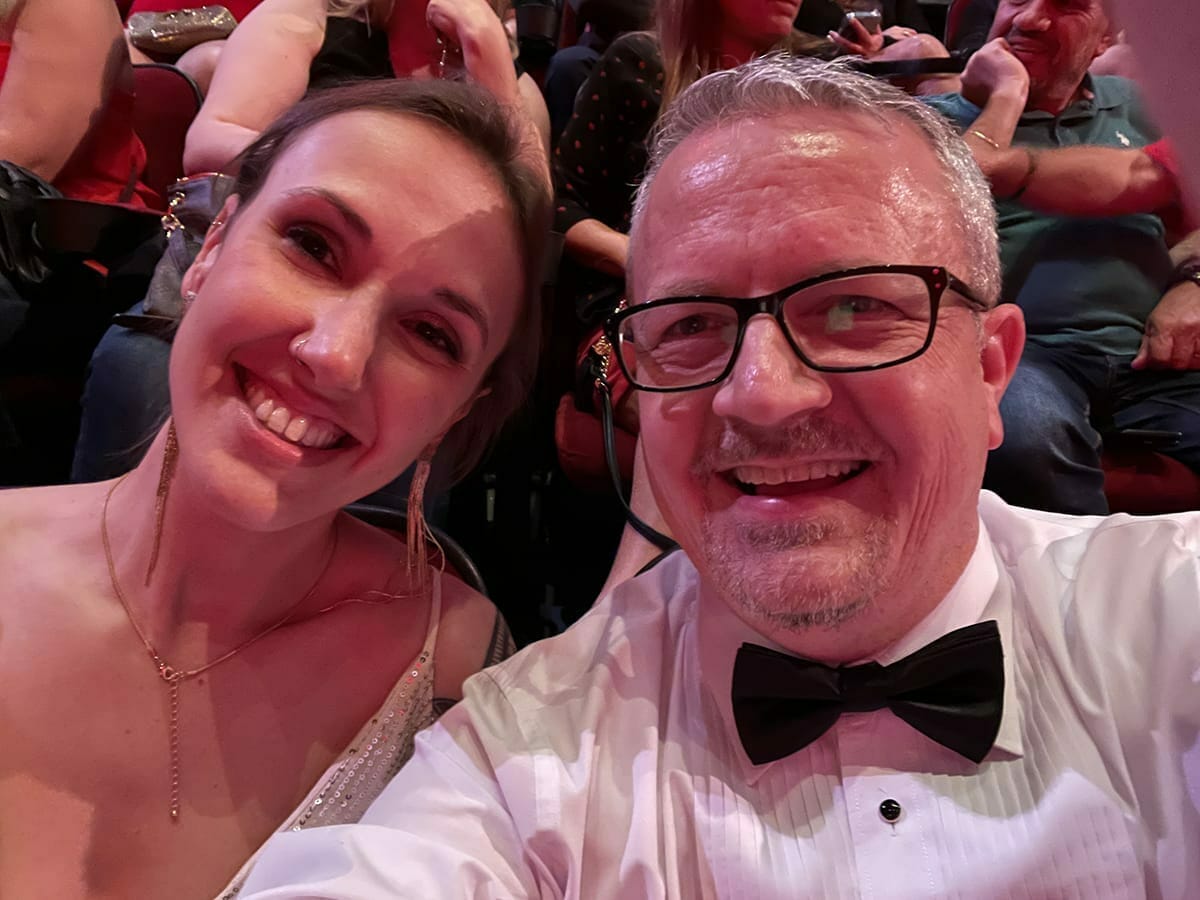 They parked us between the dance floor and a bachelorette party. We had a great view of everything and the raw energy was intoxicating. Cristi made fast friends with our neighbors, giving me the occasional window to make fast friends with our couch.
At My Age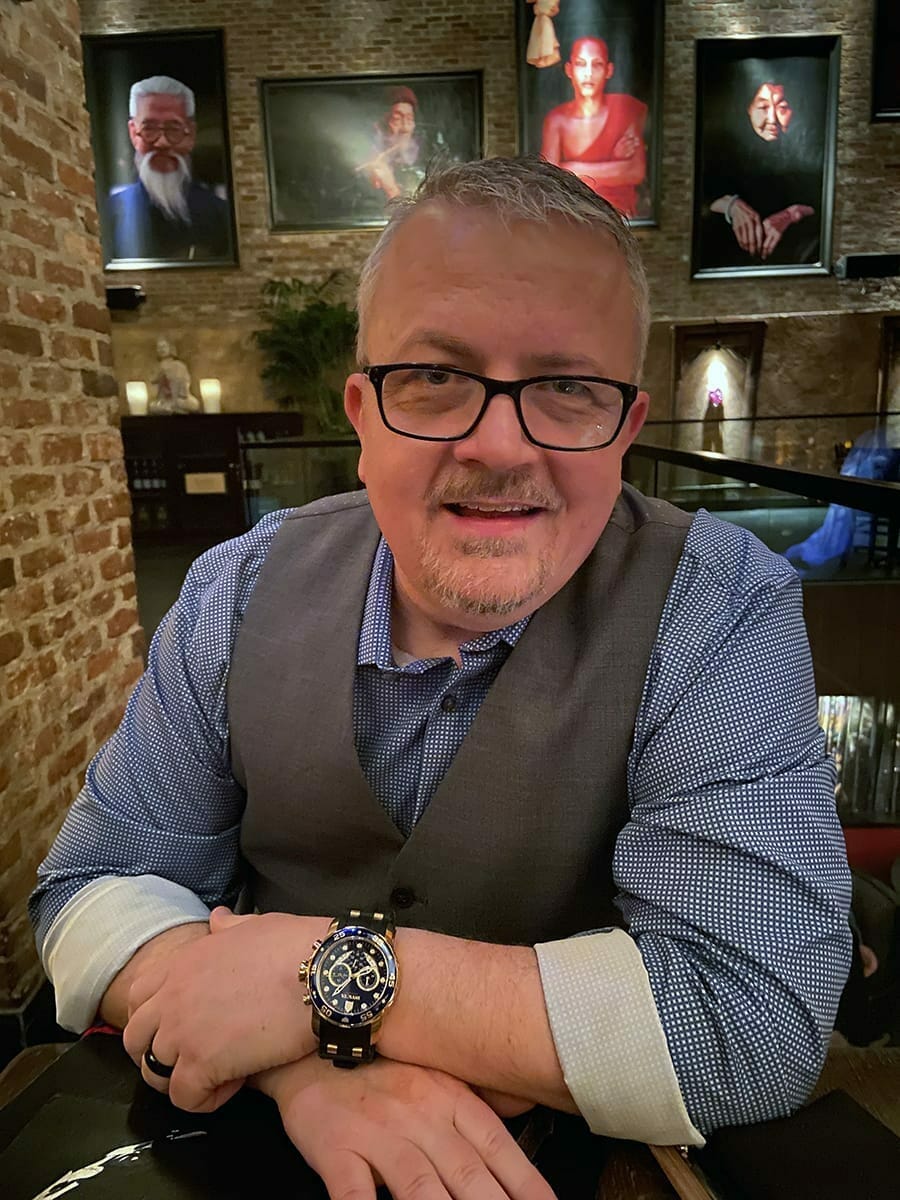 There was a security guard assigned to our area. At one point, he escorted Cristi to the ladies' room, waited, and then escorted her back. Occasionally he'd check on me, too. I eventually approached him, looked around, and said, "At my age… how can I complain?" He replied, "I'm almost your age, and that's a great way to look at it." I couldn't have been more impressed with the attention. I also found it fascinating he knew my age.
Worth It
Yeah, it was loud, and I didn't know most of the songs, and I was exhausted by the end… but damn, that was fun. We stumbled out of the club at 2 a.m. and I did my best to keep Cristi from harassing gamblers as we slowly made our way to the room. (The gamblers didn't actually seem to mind.)
Sunday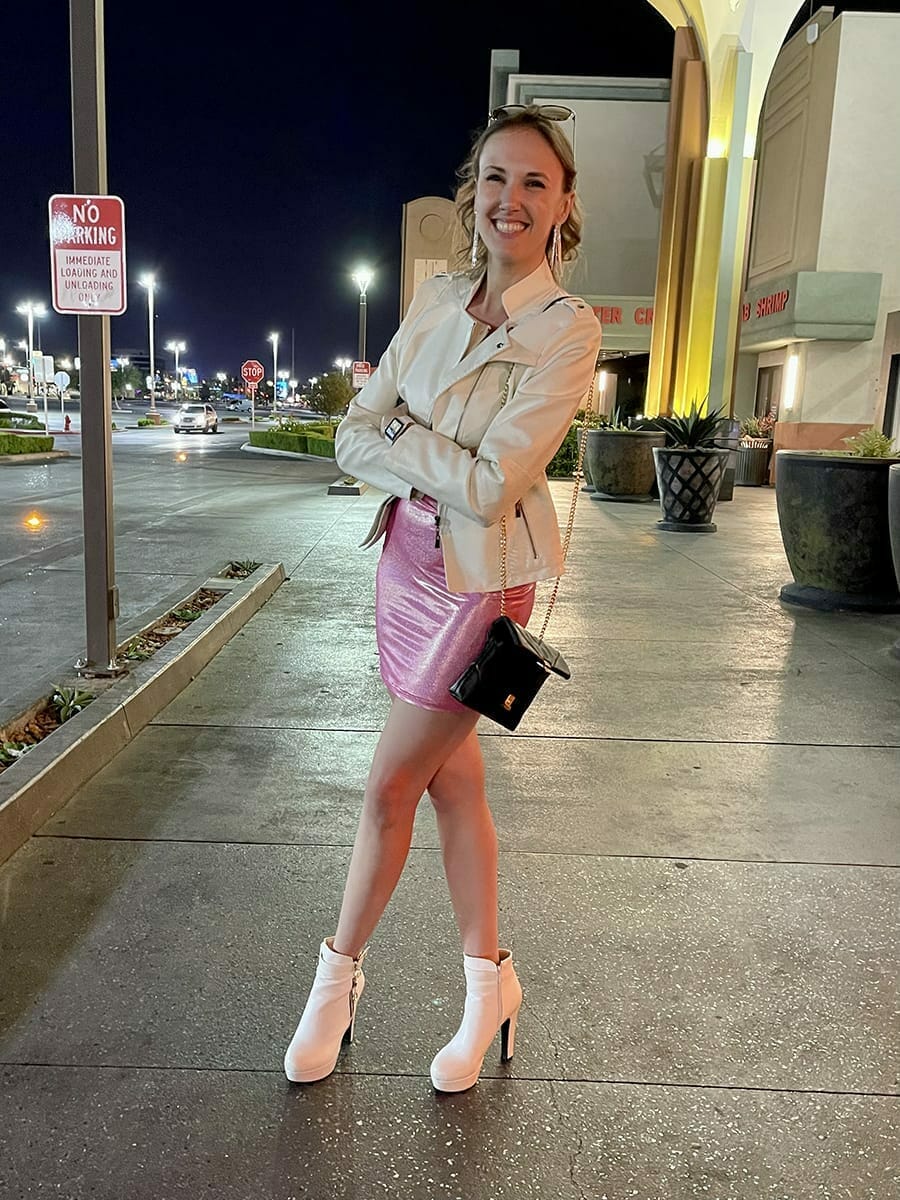 To complete our TAO experience, we wrapped up our Vegas weekend at the TAO Beach Dayclub pool party on Sunday morning. This may not have been the best decision. We were both hungover zombies that required water and naps, not alcohol and more partying, but we braved it.
They renovated TAO Beach Dayclub for 2022 and it showed. I reserved a couch again, because sitting is nice. After several hours of drying out in the desert sun, we did some serious people watching. I'd definitely come back, but I'd also come prepared for fun.
We recovered in time to finish our Vegas adventure with a fun dinner and a show.
Spirit Airlines Can Go To Hell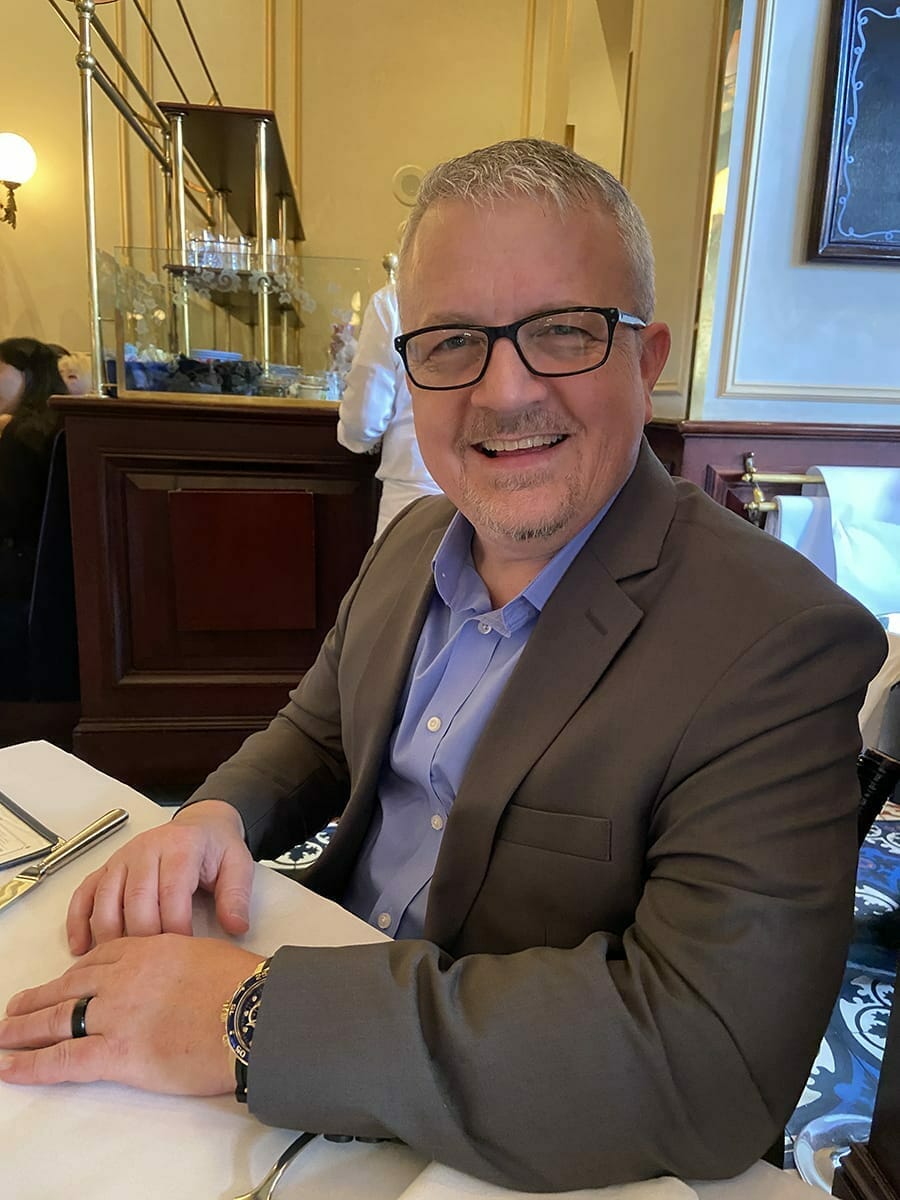 After an amazing trip, I was ready to go home, get some rest, get some more rest, and apologize to my wife. (Not really necessary, but I was prepared just in case.) Spirit Airlines threw up all over itself and cancelled flights across the country, including mine. I was stuck in Vegas for one more day.
Cristi was already planning to stay an extra day to spend time with her mom. They invited me to come with because they are amazing, but I wasn't going to intrude.
I grabbed another hotel for the night and slept like I spent the weekend pretending to be young. Thanks to the gods at Southwest Airlines, I found a reasonable direct flight home. I didn't have to apologize to my wife, but my dog hasn't completely forgiven me for leaving.
Grateful for this Vegas Adventure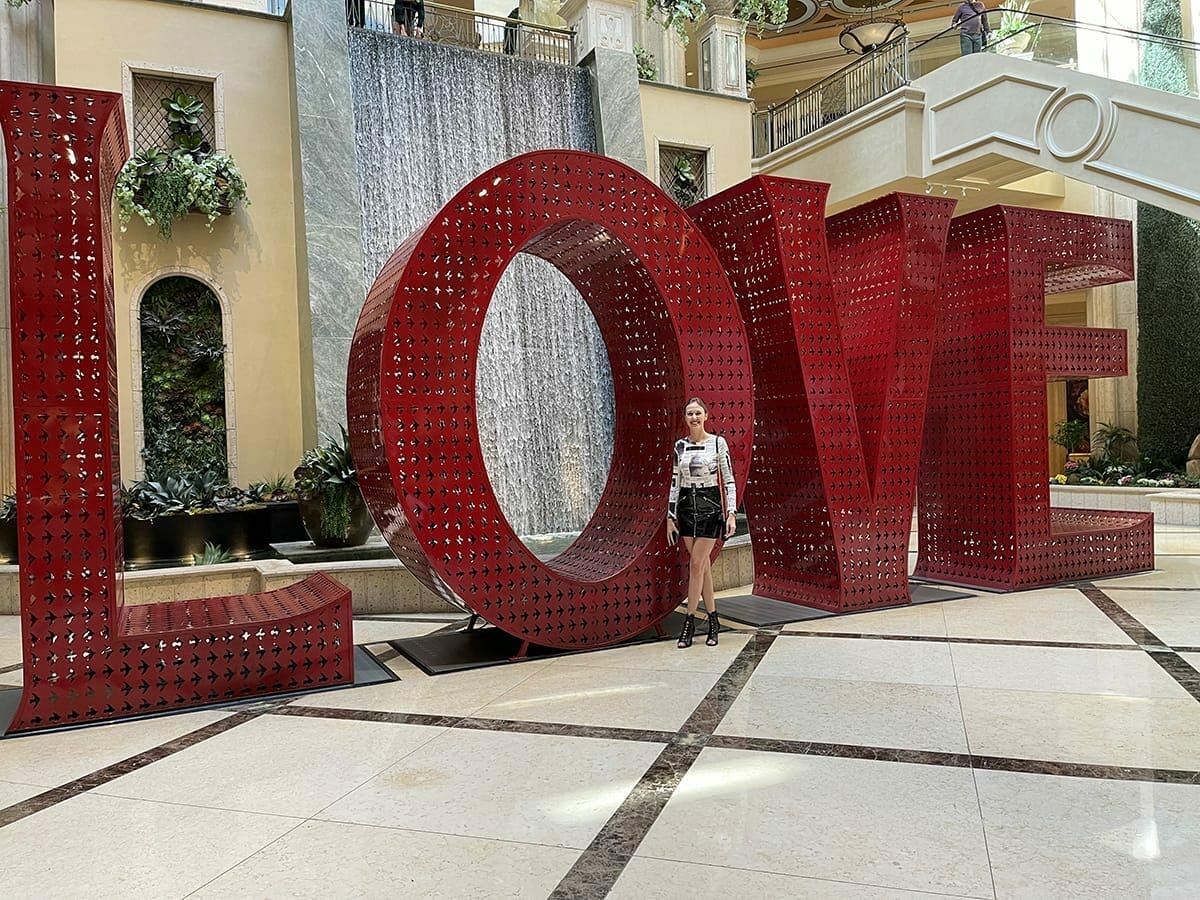 My sincere thanks to Angie, Brandon, and especially Cristi. There were some challenges along the way, but in the end it all came together and was exactly what I hoped for: a weekend making memories with my best friend.
This was understandably a one-time Vegas adventure that I don't take for granted. I have no doubt that we could ever get away with another friend-vacation like this again. Even if I had a great idea. A really great idea. Hmmm.