Writing Tips
Success vs. Accomplishment
Today, I received a hand written letter from one of my readers.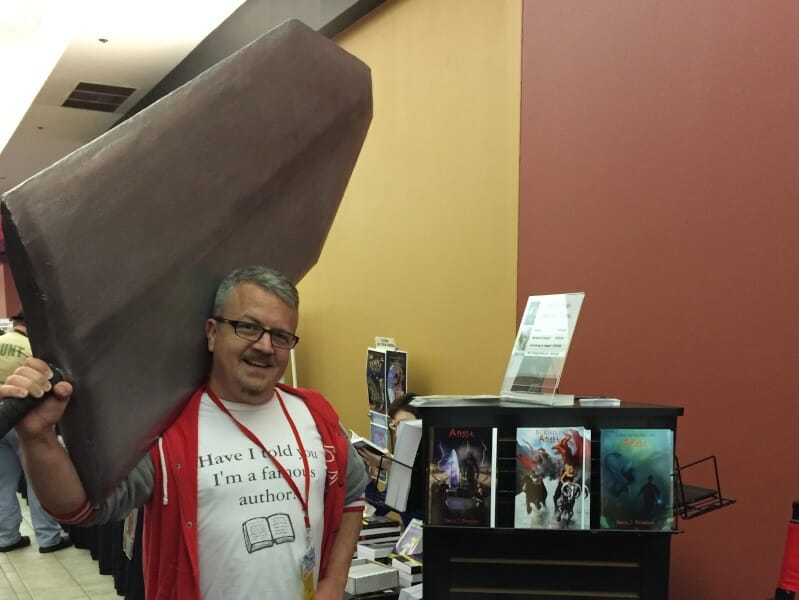 I'm not what some would call a successful writer. This is not a complaint, merely a realization. I haven't sold 100,000 books, they haven't made Angst The Motion Picture, I haven't been interviewed on a late night talk show. (Yet.) Hell, since 2005 I've only completed three books when many of my indie peers pump out 2-3 books a year. (For which I have all the respect in the world for them. Amazing!) A lot of people would find this discouraging. Some would even throw in the towel.
This summer I was on a panel at a Science Fiction and Fantasy convention where a successful indie author literally scoffed at my lack of success. I didn't record the panel, and I was probably drinking, so I'm paraphrasing. But basically, he said if an indie writer wasn't making the same level of effort he did and making at least 30K a year then their self-publishing was nothing more than vanity press. He advised new authors to small business classes at community colleges or they were just wasting time. If you are in it for the money (and I'm sure most are to some extent), he wasn't wrong. Or was he?
Every once and awhile when I do get frustrated and discouraged about my writing, and I do, something happens. I get a reminder to keep going and to believe in what I'm writing. This weekend, I received two. The first was from a Twitter friend in Australia, who I hope to meet one day. He first messaged me awhile back when he was unable to find a copy of Angst at any local bookstore. The fact that he went to look for it, at multiple stores, is touching. He went so far as to purchase a signed copy from me to have it shipped halfway around the world. He messaged me tonight about how excited he was to receive my third novel Drowning in Angst. I couldn't be more flattered.
Over the weekend, something unexpected happened that still hasn't completely sunk in. Let me start by saying I've been rebuilding my house. (I swear, sometimes it feels like this place has been attacked by the seven plagues.) The most recent plague has been siding dry rot, the eighth plague. Last weekend, I ordered a delivery of building materials. The delivery man mentioned something about our local Renaissance Festival (which is amazing, by the way!) Ever the salesman, I brought up my fantasy novel, Angst. He actually remembered me from Planet Comicon and had a picture of Cristi in costume on his phone. That was bad ass! So, I tipped him with a signed copy of Angst. Today, I received a letter from him. He loved the first novel, has already read the second, Buried in Angst, and ordered the third.
It was the first handwritten letter I have ever received about my novels. In this day of e-everything, who sends a letter? It takes an effort, it's inconvenient, and it's incredibly thoughtful. It was a "faith in humanity restored" sort of moment. He related to the book, totally got what I was trying to write, and said some nice things about me personally. I think about the few times I've gone out of my way to compliment someone like this and can't help but appreciate the significance.
If success is measured in money, then please, don't come to me for advice. I have, however, accomplished a lot in my life. I've run two, pretty slow, 26 mile marathons. I've climbed up two 14,000 foot mountains. I've been married 22 years (an accomplishment in this day and age). I've got two amazing kids who have grown up to be amazing young adults. I've marched in Thee University of Wisconsin Marching Band, honestly, as challenging as any of these if not moreso. I've written over 400,000 words that quite a few people have actually enjoyed. No, I'm not successful, but I feel accomplished, and it feels pretty good.
When you get down about your sales, about the lack of money you're making, or even about those few bad reviews – remember why you're doing this. Sometimes it's not about success. Sometimes it's about passion. Sometimes it's about believing in yourself and the story you have to tell. Sometimes, it's about your goals, and not theirs. So go out there and do what you believe in, and at the end of the day, enjoy what you have accomplished.