Conventions
So many awesome cons!
I think I'm addicted to cons and this is why!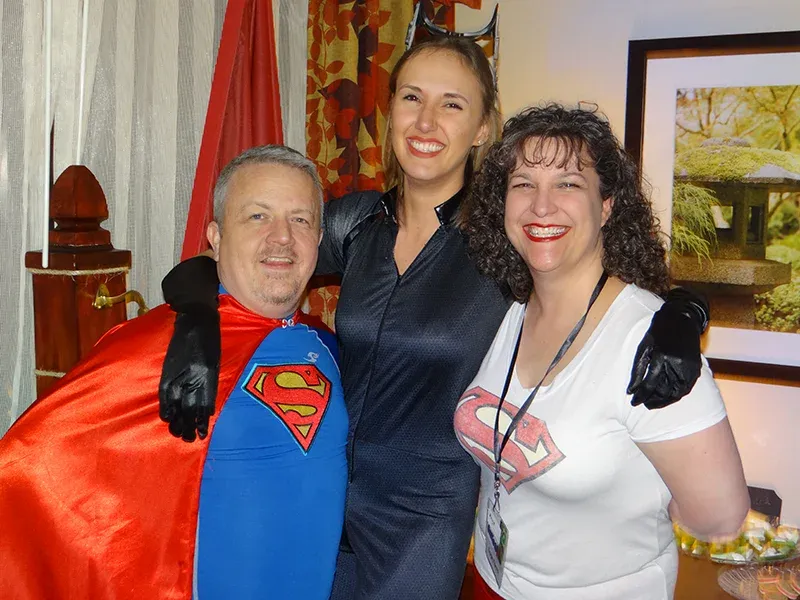 I like to maintain a well-balanced schedule, giving equal time to my family, friends, my day job, exercise, and writing. This is why most of the cons I'm planning to attend in 2017 are crammed within five weeks. (My wife thinks it's because I don't want to exercise! That's crazy talk.) There are so many awesome cons and I've already been to two of the three. Planet Comicon in Kansas City and Demicon in Des Moines were polar opposites, and I loved them both!
Planet Comicon
Planet Comicon was April 28th – 30th. It's a big con, 70,000 people big, with lots to see and do. From my perspective, Planet is a well-oiled machine with some incredible guests, fun panels, and top notch cosplay. Not only do they draw a crowd, they also support local business. From little things like retweeting several of my posts, to providing my wife with a press pass to support her site, KCGeeks. (And did she hustle! I barely saw her all weekend as she worked to cover as many panels and gatherings as she could. I'm both proud of Angie and grateful to Planet Comicon!)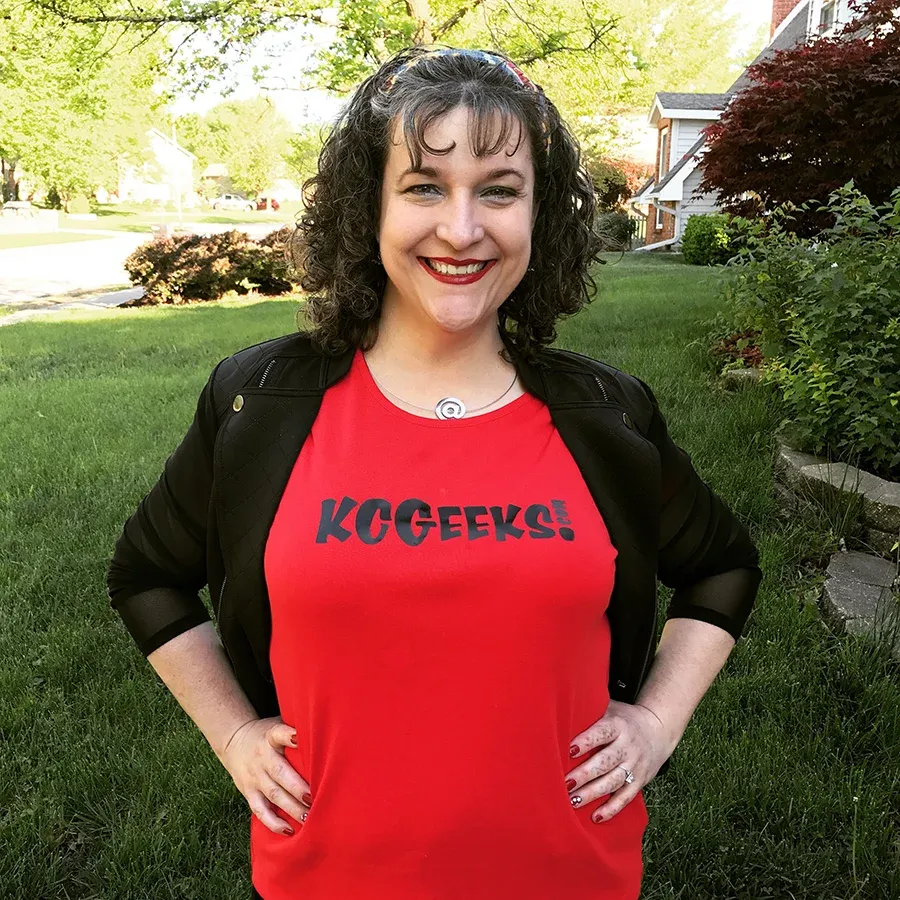 One of my favorite stories of Planet's generosity came from Acme comics. The owner of Acme's house was recently crushed by a tree. Not kidding, the pictures I saw were shocking. He let the folks at Planet know that covering the booth fee would be a hardship. Not only did they work with him, but gave him ample booth space to help out. I couldn't respect this more.
Muses
Being a vendor at Planet can be exhausting, in the best way, and I ask for everyone's help to make it through and enjoy the event. My muse-in-training, Sarah, rocked the con on Friday – both making it fun and helping sell books. Sarah has been a long time supporter of my books, and recently joined the alpha team.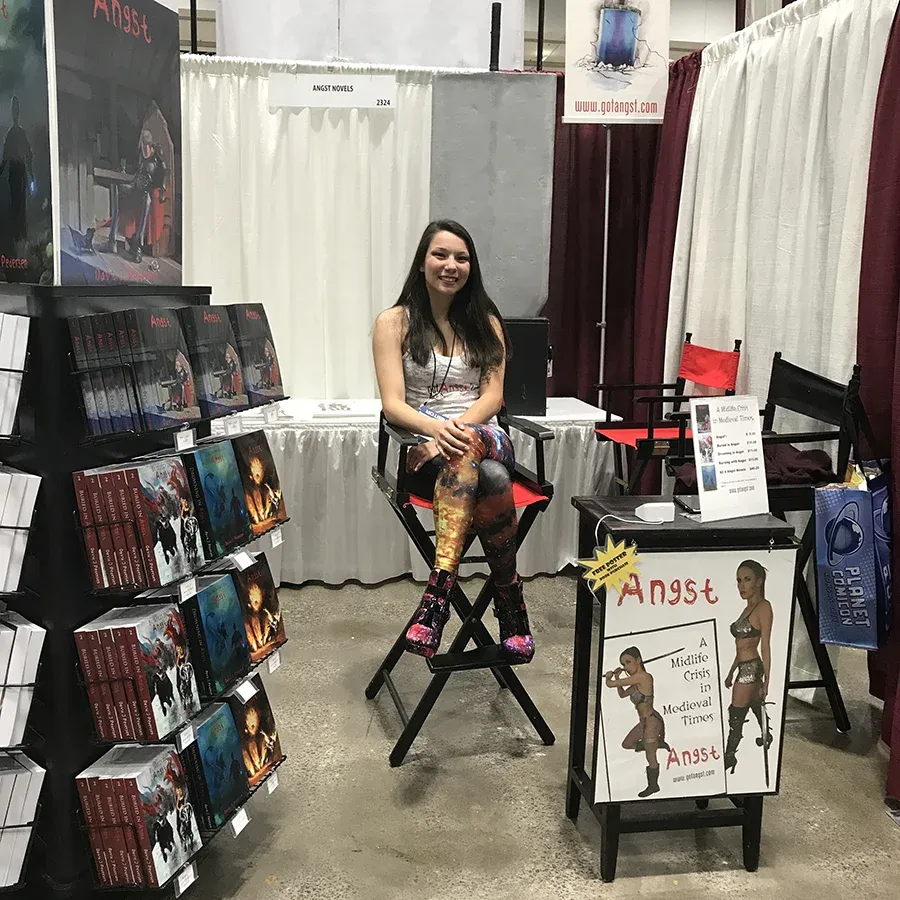 Saturday I had the pleasure of enjoying the con will all three of my muses. It was the first time they had all attended Planet, and they were amazing! Not only did they draw people into the booth, they inspired a good time! (What do you expect? They're my muses!) My daughter helped out on Sunday, and then she and Angie saved my life by helping me pack up.
As for sales, this was my biggest con yet. But it's not just about numbers. A woman stopped by to pick up the fourth book for her husband and said it was the only thing he asked her to purchase at the con. Ma'am, if you're reading this, thank you. That's what keeps me writing.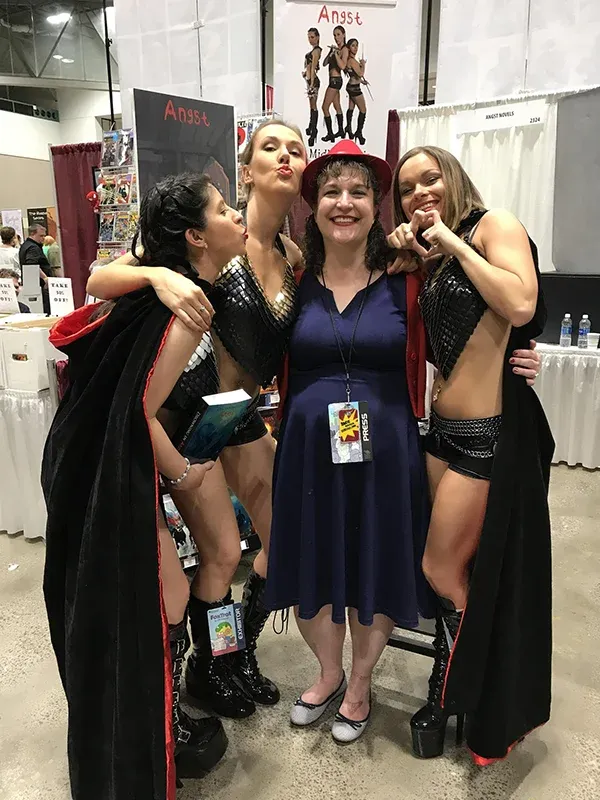 Rose Tyler
My friend and muse, Marina, is a huge Doctor Who fan. So am I. When I found out that Billie Piper was coming to Planet Comicon, I didn't hesitate at buying a photo op. No offense to people who love them, autographs and pics aren't really my thing, but this was Billie Piper. After buying the first pic, I got a great, and terrible idea – so I purchased a second picture.

We were lucky, not only to be in the first group, but to be in the front of a huge line of fans. Ms. Piper was a total sweetheart, immediately noticing Marina's chainmail costume and calling her "sexy lady". After taking that pic I told Billie I bought a second and showed her a blank, white foam board. She asked what it was for, and I shared a picture on my phone of her and David Tennant from Doomsday. Piper graciously agreed, and after taking the photo stopped the line to go to the camera and see the results. She liked the pic, said it looked great, and then gave me an adorable pouty face, confirming that I'm a terrible person. What more could I ask for?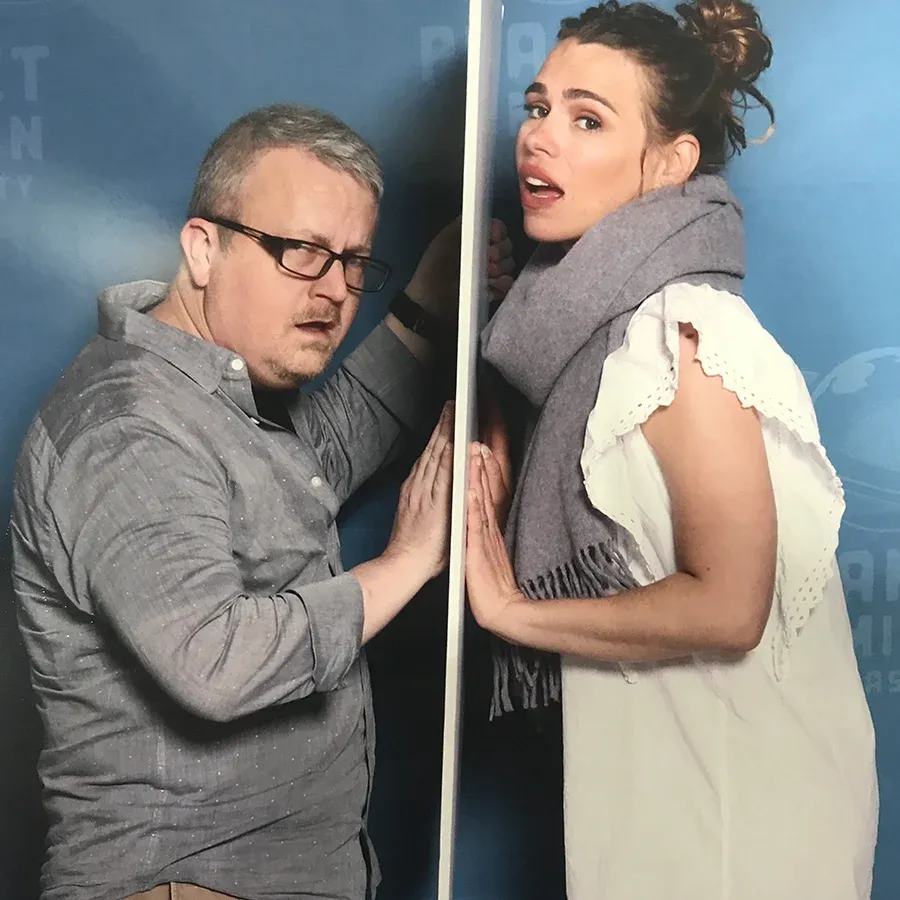 Demicon
I've been taking Mondays off work after cons because I'm old, which was a welcome respite after Planet because I left for Demicon 4 days later. Where Planet is a great, beautiful monster of a con, Demicon is a family reunion. It's more hugs than work. I sell books because they support what I'm trying to do, but I go because I love the people and what they've put together. This was the fifth year Cristi and I have attended, and my wife's first. Since the theme was superheroes, I thought it was the perfect time to introduce Angie to Demicon – and needless to say, she understood why we love it.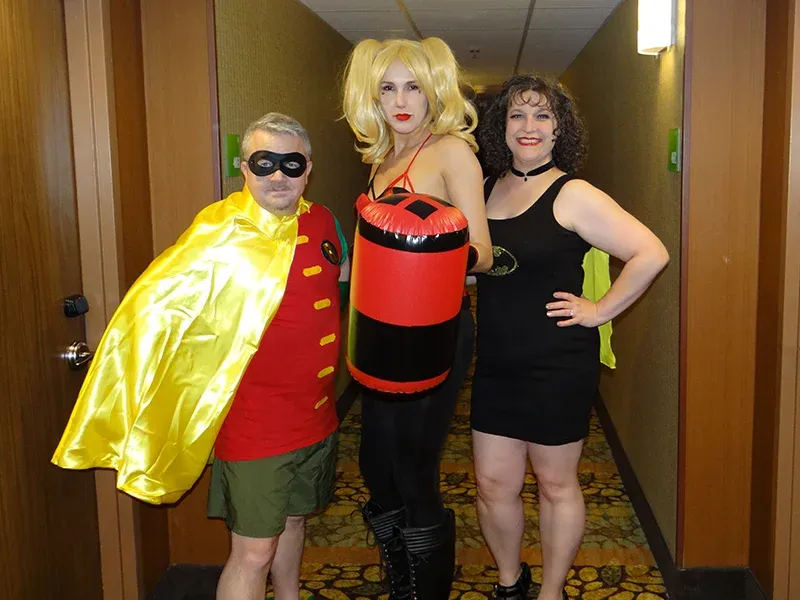 Karaoke
I rarely wear costumes at cons. I enjoy wearing costumes, but when Cristi is in chainmail I'm pretty much her shadow. This year was different. The truth is, I'll do anything to wear a cape. Friday night Angie was Supergirl, I was Superman, and Cristi was Catwoman. Saturday night, I wore the family friendly version of my Robin costume, Angie was Batwoman, and Cristi was Harley Quinn. Hijinx ensued, and I'm still waiting for permission to share Angie and Cristi "serenading" me with Avril Levine's Girlfriend in the karaoke room. The weekend went way too fast, and I'm already signed up for next year. Thanks to everyone who puts together Demicon, and all who attend!
Manticon
Manticon will be the last in this marathon of conventions from May 26th – 28th. This will be my first time attending, and if the room parties are anywhere close to what the Manticore Navy hosts at Demicon and Soonercon – I cannot wait! I'm also incredibly flattered to be an honored guest at Manticon! I'm really looking forward to making new friends and great memories!