YouTube
Free Writing Software for Writers
You want to write and publish a book but you're on a tight budget and software doesn't come cheap? There are some great free writing apps for writers you can use right now.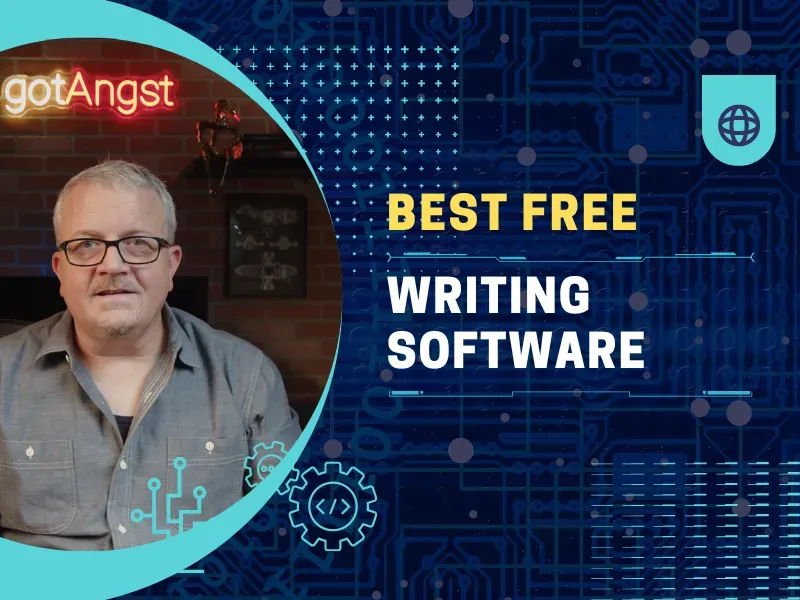 You want to write and publish a book but you're on a tight budget and software doesn't come cheap? Good news! There are some great free writing apps for writers you can use right now.
In my last software roundup, I shared the applications that are a part of my writing workflow. Some of that software isn't cheap, so I'm going to share some of the best free writing software for writers.
Free Software?
A few thoughts about what free means when discussing software. Free software comes packaged under different licenses.
Open Source software is free to use, modify, or share with no associated upfront cost.
Proprietary software is typically created and owned by a corporation, like Microsoft. Companies sometimes offer free versions with limited functionality hoping you'll like it enough to purchase the full version or buy the whole suite.
Be Careful
Please keep in mind that if you want to try this software, download from the original site. Don't go to shadysoftware.com and download their enhanced version. You'll find links in each section below.
Notion
Notion is a cross-platform workspace to manage your time and projects. I'm pretty sure this free app will paint your house and rotate the tires on your car. There are numerous templates available to help manage your life, goals, or business.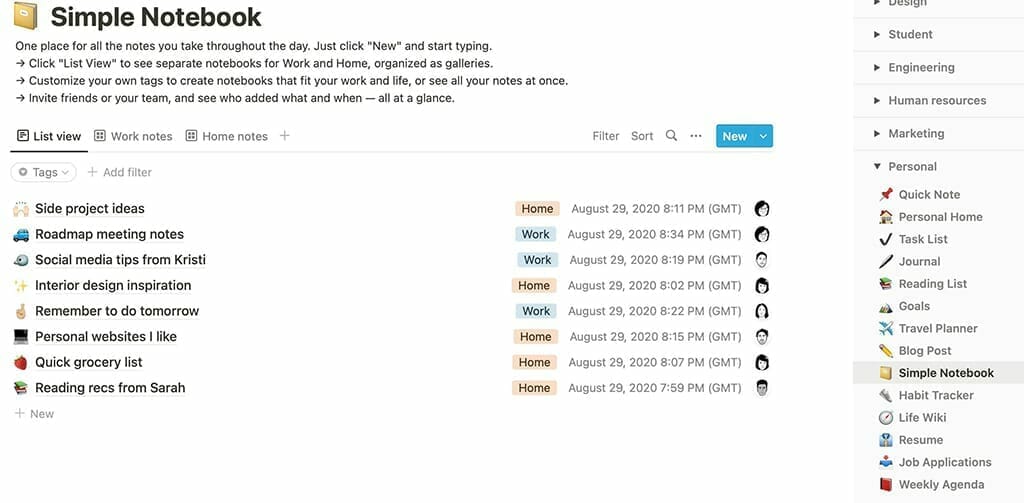 Notion is very hands on and DIY, but making notes with it is easy. Give it a try at https://notion.so
Trello
If you want to plot out your book by chapter and then move things around to get the timing right, consider using Trello. This web based application is like using note cards and spreading them out on a table.
Start by creating a board to store your chapters. You can then create lists that can be used as chapters and add cards for each scene. It's easy to move those chapters and scenes around as needed.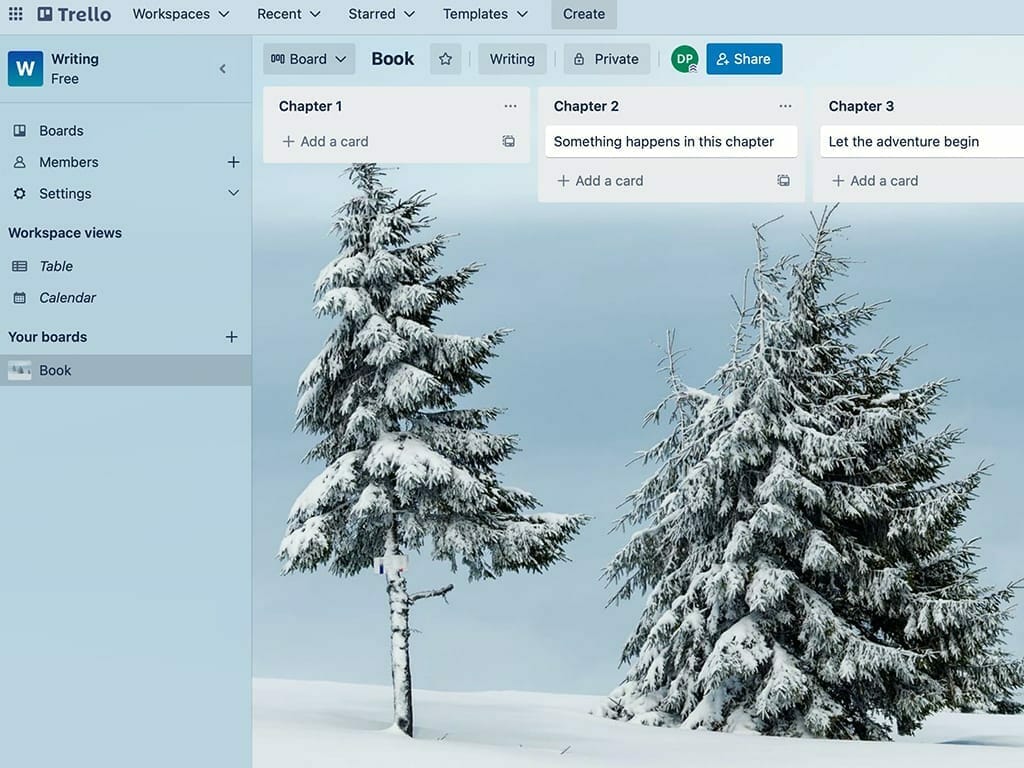 Trello is free to use but offers a paid version with more features.
Jamboard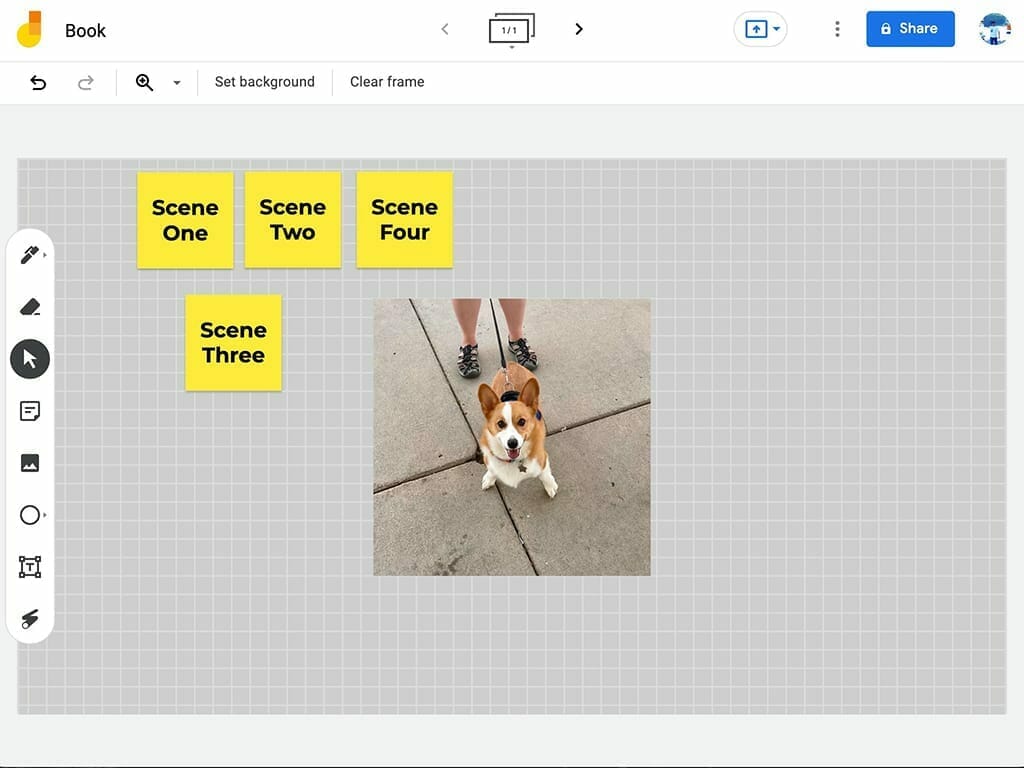 Jamboard.google.com is another web based application that's a part of Google Workspace. It was created for whiteboard collaboration but works great as a cork board. You can add stickies for scenes, images, shapes and draw. All projects are saved on google drive and the app requires a google account to access.
Google Docs
You don't have to purchase Microsoft Office to have a great word processor. Check out docs.google.com. Some of the great features for writers include:
Add Extensions like grammar checker ProWritingAid
Easy collaboration to share drafts with editors
Export in multiple formats like Word and epub
Docs is free to use, but like jamboard requires a google account.
Libre Office
For fully featured office software, I recommend LibreOffice. If you use Microsoft Office, you will be familiar with the interface. Libre Office includes apps for spreadsheets, slideshows, diagrams, a word processor and more.
I like Libre Office a lot and featured it on my video here. Libre Office is compatible with Windows, Mac, and Linux operating systems. You can download Libre Office from their site: https://libreoffice.org
Manuskript
Manuskript is an open source novel writing application. It's an early release application so there are some manual steps to installing everything. Manuskript has an impressive feature set that includes distraction-free writing, outlining, index cards, character profiles and more.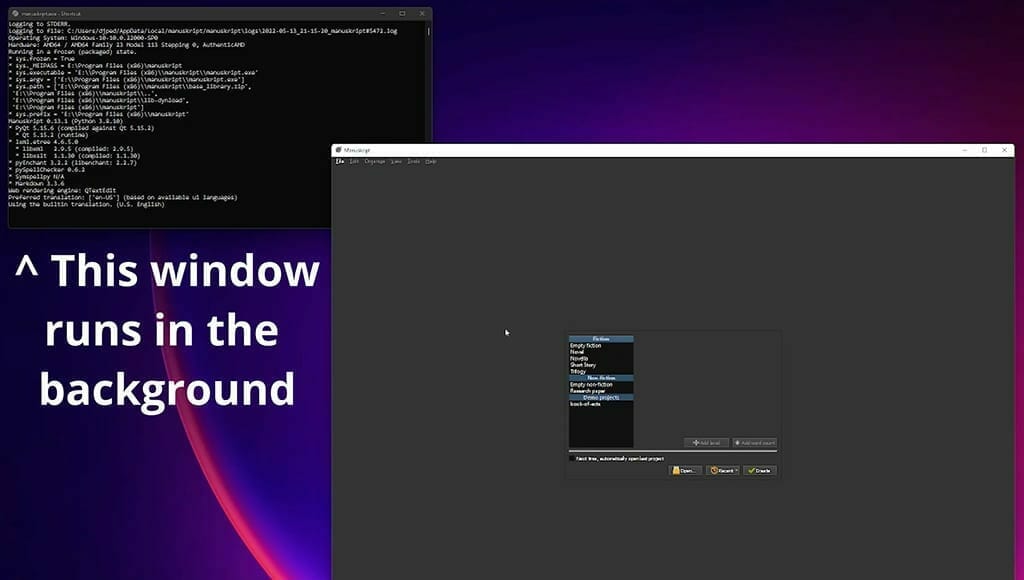 The Manuskript portion of my video starts here. You can install this software on Windows, Mac and Linux. Get your copy from: https://www.theologeek.ch/manuskript/#
Bibisco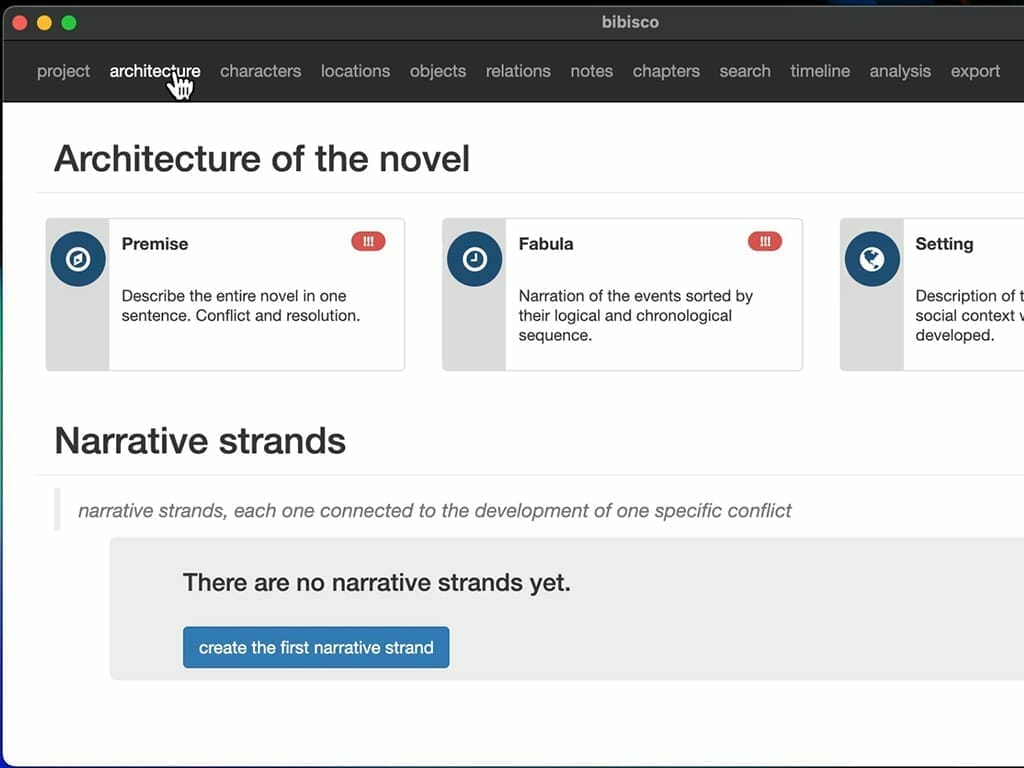 Bibisco is novel writing software that has a free version with the features you need to write your book. This software is a solid choice for authors who spend a lot of time planning and world building. Bibisco's approach is unique and there is a learning curve, but don't be intimidated. They provide instructions on the Bibisco site and some how-tos with video.
I feature Bibisco on my YouTube video here.
Download a copy of Bibisco from their site: https://bibisco.com
Kindle Create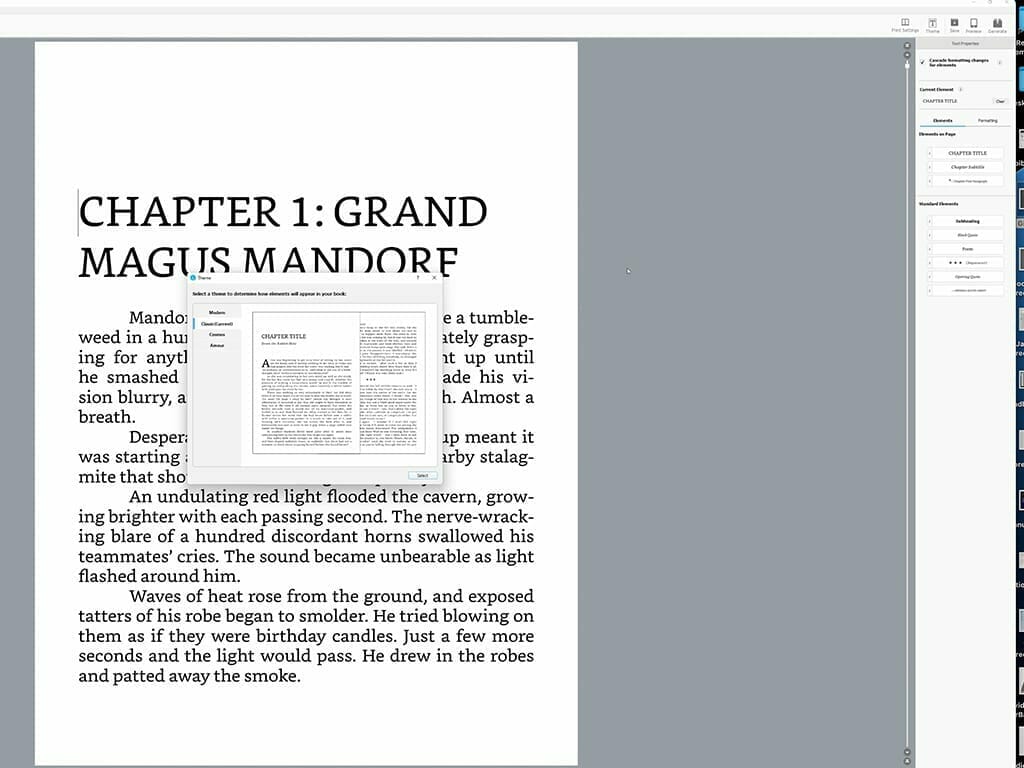 Writing your book is not the end of your journey as a self-published author; you need a way to format your book for publishing. A lot of authors hire out formatting, but if you want total control of the end product, a great option is Kindle Create from Amazon. This software allows you to turn your manuscript into an e-book and upload it directly to Amazon. If you plan to make your book exclusive to Amazon, this is the way to go.
You can download a copy of Kindle Create here: https://www.amazon.com/Kindle-Create
See it in action in my video here.
Gimp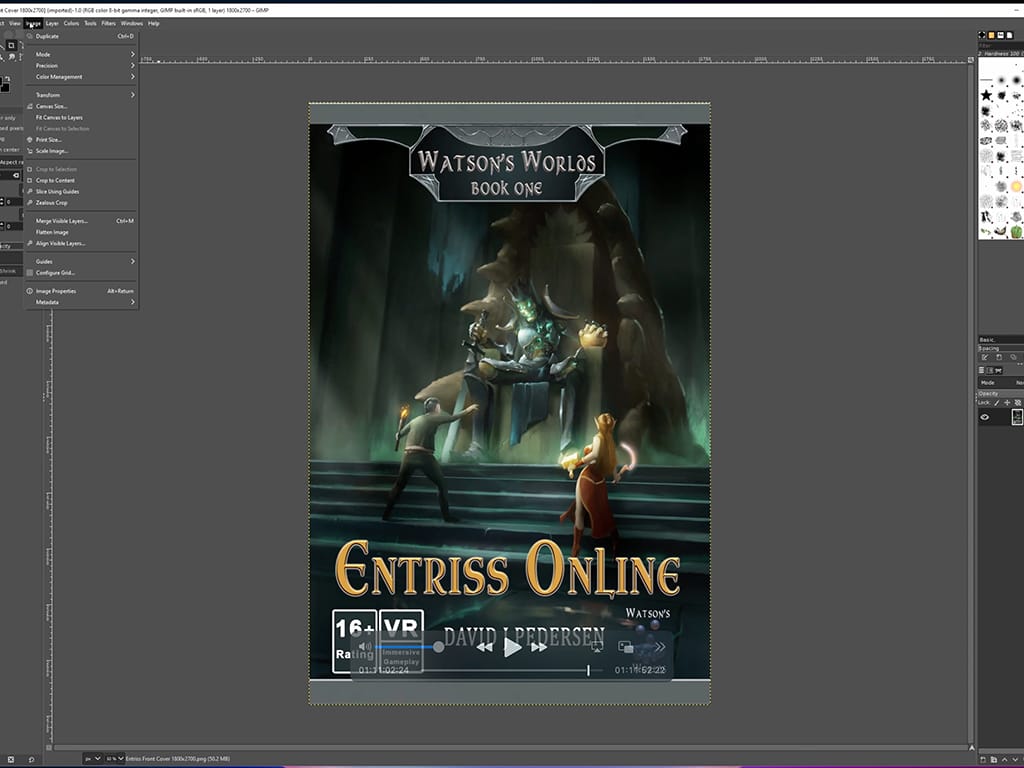 Gimp is an open source image editor that's been in active development for over 24 years. It's easy to install, learn, and use. The active community keeps the software up to date, and provides tutorials that you can find on web sites or YouTube.
Gimp is a cross platform application that works on Windows, Mac, and Linux. You can download a copy from their website here: https://gimp.org
Free Writing Software for Writers
I hope this software helps you write and publish your book. While much of this software is free, people work hard to keep these projects alive and up to date. If you use one, consider donating to their project – after you become a rich and famous author, of course.