Books by David
Entriss Online LitRPG Book Cover and Blurb
Entriss Online is a LitRPG GameLit novel in the Watson's Worlds series.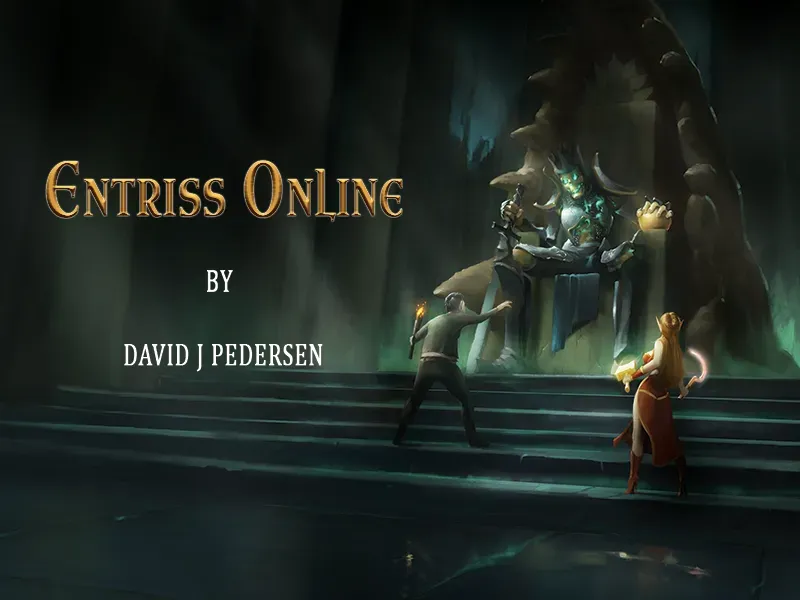 Blurb
They were shutting down Entriss Online, and Ian had no way to stop them. The game was his life — by day, as one of their lead developers; by night, gaming as the accomplished Mandorf the Wizard. After years of leveling up, both professionally and personally, everything he had worked for was going to end. His goggles-and-gloves virtual reality MMORPG was being replaced with Everyworld Online, a next-gen game that provided full immersion so players could experience a world that looks and feels real.
After stumbling on an unknown quest that kills anyone who approaches, Ian discovers an enormous amount of orphaned code that had never made it into the game. Moments before being fired, he checks in the code, enabling The Left Hand of God quest chain, an unexpected world event, and the frightening reality of a fully immersive Entriss Online.
If you enjoy VR LitRPG fantasies with a unique premise, surprising twists, and some good laughs, then you'll love Entriss Online.
Available Now
Get it now on Kindle or Kindle Unlimited
The Story Behind The Cover
I couldn't be more excited to share this cover. Entriss Online, book one in the Watson's Worlds series, is a LitRPG GameLit fantasy. Similar to novels like Ready Player One, much of the action takes place in a virtual world with gaming elements. The rest happens in a future version of our world. Not only did I get to create a new fantasy world, I got to sprinkle in a hint of sci-fi. It was a fun book to write.
I'm very fortunate to have a cover artist who can translate my vague ideas and drunken sketches of stick figures into this. Alesandro Brunelli totally nailed the look of a video game retail box, even including screenshots on the back.
It's only been a few days since my advance review team received copies, and several have already finished.
Early Reviews
Oh man! I just finished it. Awesome! Another homerun. I want to end all of my sentences in exclamation points it was so good! And I'm too old for anything other than the original D&D so that should tell everyone how enthralling the storytelling is. Great job again David! - E.W.
It was, hands down, one of the best LitRPG books I have ever read. I ignored family, work, pets, and sleep to keep reading it. Was really really hard to put down. - Rich Edelman