Writing Update
Angst Is An Amazon Bestseller!
Angst reached the mid-80s in the top 100 for both Epic Fantasy and Sword and Sorcery.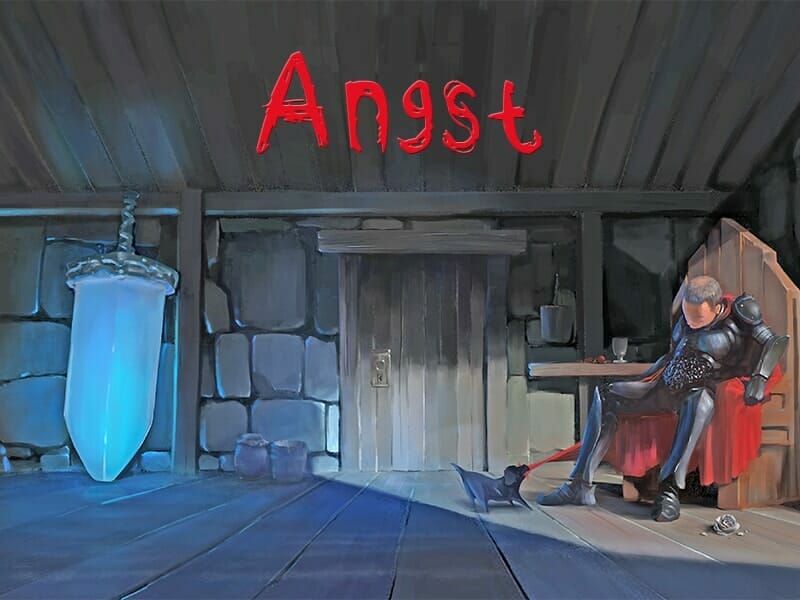 I do a LOT of marketing for my fantasy novels Angst and Buried in Angst, probably more than I should. I enjoy that side of it, and it makes me feel like I'm doing something when not writing. Despite my efforts, Angst has never been an Amazon bestseller. Lately I've been looking for ways to promote Angst outside of conventions. I love them, but they are expensive and I'm pretty sure I've eaten up all Cristi's vacation days (both away from work, and away from her boyfriend!)
Searching For My Audience
That said, I don't always feel like I've even come close to finding my audience. The cons are great, Twitter and Facebook work well, but nothing has truly pushed Angst over the edge or even near it – everything has been slow and steady. Not a complaint, just admission that I'm still figuring this out.
Advertising
Over the last month I tried advertising my books on several sites. It's been interesting, and with varying degrees of success. I'm not going to call out the ones that didn't work, because it just as easily could have been my lack of research into the genres they normally promote. The worst had 750,000 Facebook followers and cost me $50; I was sure it would generate crazy sales and was grossly disappointed. Until this weekend, the best was www.efantasybargains.com – they were kind enough to include me in their newsletter and I felt it was definitely successful.
Kindle Books and Tips
Friday, September 9th, Kindle Books and Tips promoted Angst on their site. I had read good things about them on KBoards. I watched sales on Amazon throughout the day like checking score for the longest football game ever. They were slow in the morning and I figured I had just thrown away allowance for a weeks worth of Starbucks. By noon I had broken my daily sales record for Angst and was pretty excited.
Exciting Results
If you understand ranking on Amazon, you know a hell of a lot more than most people. Angst typically fluctuates between 60k – 100k. The start of September was slow like I am on a Monday morning and I had started in the 300s! When my daily sales record broke at noon Angst reached 40K then went back to the 300s. I really wanted to call someone and tell them to fix their stuff. How do you go from a 300,000 ranking, to 40,000, back to 300,000. I took this as a sign to stop watching the pot of water; it would boil on its own.
Getting Closer
By dinner, everything had corrected itself and Angst ranked high enough that I had to glance at the top 100 books. It's a thing. It's a total pride and ego thing, and I know that so shush, I was curious. Angst and Buried in Angst are categorized under Epic Fantasy and Sword and Sorcery in the Amazon top 100 list. Those found at the bottom of the top 100 in Sword and Sorcery were ranked at about 3,000, and 4,000 in Epic (whomever wants to compete with George RR Martin please raise your hand.) Needless to say, Angst wasn't even close to the top 100 and there was no way it would happen  – which is why I kept checking.
Top 100
That evening, after watching my daughter's marching band do an amazing first show of the season, I checked the score once again. People kept buying books, and to keep a long story from getting longer by 1am Angst was ranked 99th in Epic Fantasy on Amazon! (It was pretty noisy in my office for a few minutes.)  I was beside myself, posted everywhere, and after calming down went to bed thinking that for a brief moment Angst was an Amazon bestseller. That's pretty awesome. I eventually woke up Saturday morning and was amazed to find that Angst had reached the mid-80s in the top 100 for both Epic Fantasy and Sword and Sorcery.
An Amazon Bestseller
It felt good, amazing even, a little taste of what could be. Some days I feel like I work hard for every book sold, and, for a moment, this was like winning the lottery. While sales continued throughout the weekend, they are finally settling back to normal. What a fun ride! The timing of this was perfect: I have a little extra stride to my step and flair to my pen.
With all of this said, I have to shoutout Kindle Books and Tips – be sure to check them out! And to my newest readers, I hope you enjoy my Angst!