Conventions
All Good Things
My final convention as a vendor was everything I could have asked for.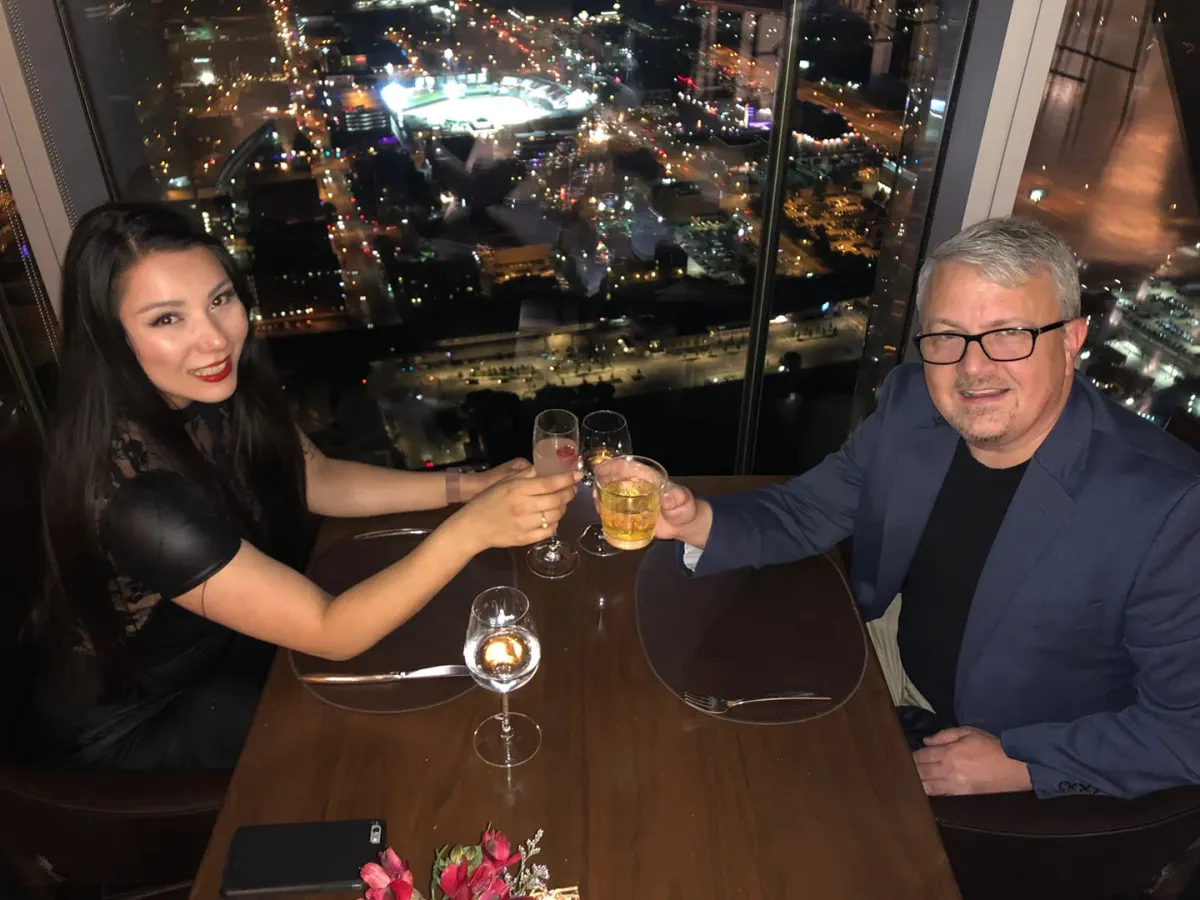 After completing my first fantasy novel, Angst, in 2010, I didn't know what to do. I wasn't in a place personally to face rejection letters from potential publishers. I've always been a grass roots sort of person, so I published it myself. Readers started buying ebooks, but selling more required marketing abilities beyond my skills. I did, on the other hand, know sales. All I needed was a venue to meet people and share my story in person. That's when I discovered conventions. My goal was to sell books, and I ended up with so much more.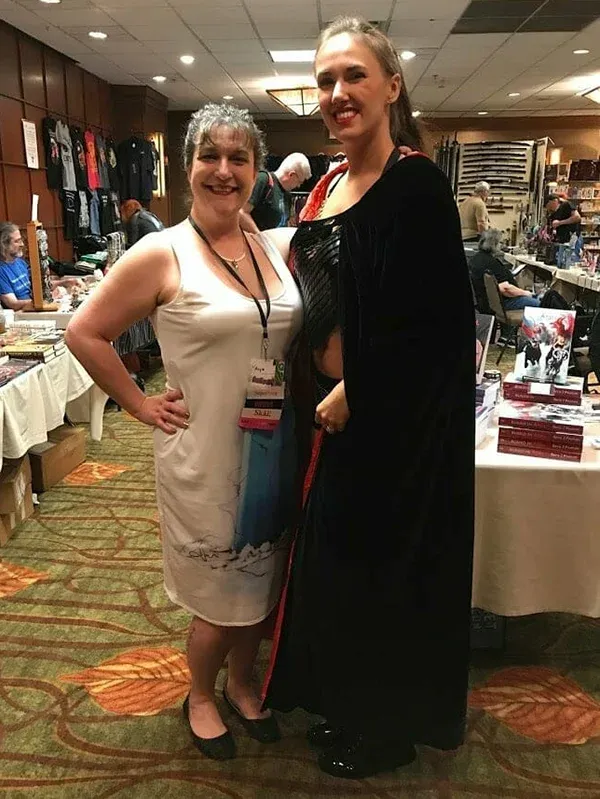 ConQuesT
ConQuesT was my first convention in 2012. I didn't want to just put books on a table, so I made a giant sword replica of Chryslaenor from Angst. I also made my friend Allie a chainmail bikini and she became my first muse. Cristi joined us for ConX later that year. We had a lot of fun. We also sold some books, and I knew we were on to something. Over the next 7 years I would attend almost 40 conventions, over 30 of them with Cristi. Sometimes Marina and Mayra would join us. My supportive, and patient wife has been to some, as have my children. More recently Sarah has been my partner in crime. It's been an experience.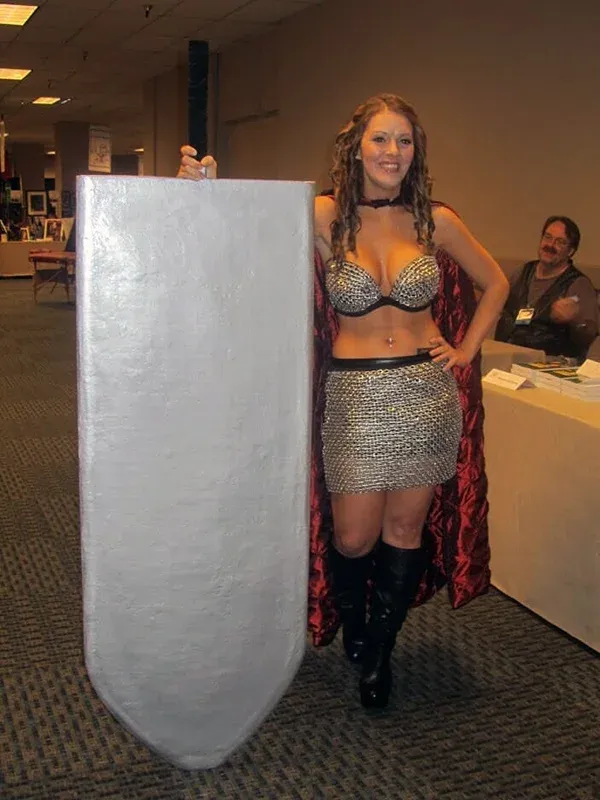 SoonerCon
This year, Soonercon 28 was my last convention as a vendor, and it mirrored the very best of every con I've attended. I don't usually talk numbers, but I sold 70 books. For a con of 3,000+ I feel that's pretty solid; compared to the 100+ books I sell at Planet Comicon with their 130,000 attendees, I'm both moved and flattered to have the support. What's really telling is I sold more copies of books 2-5 than I did of book 1. It means I have a supportive audience (who I love). At the end of the day, those are just numbers and not the real reason I've continued going to conventions.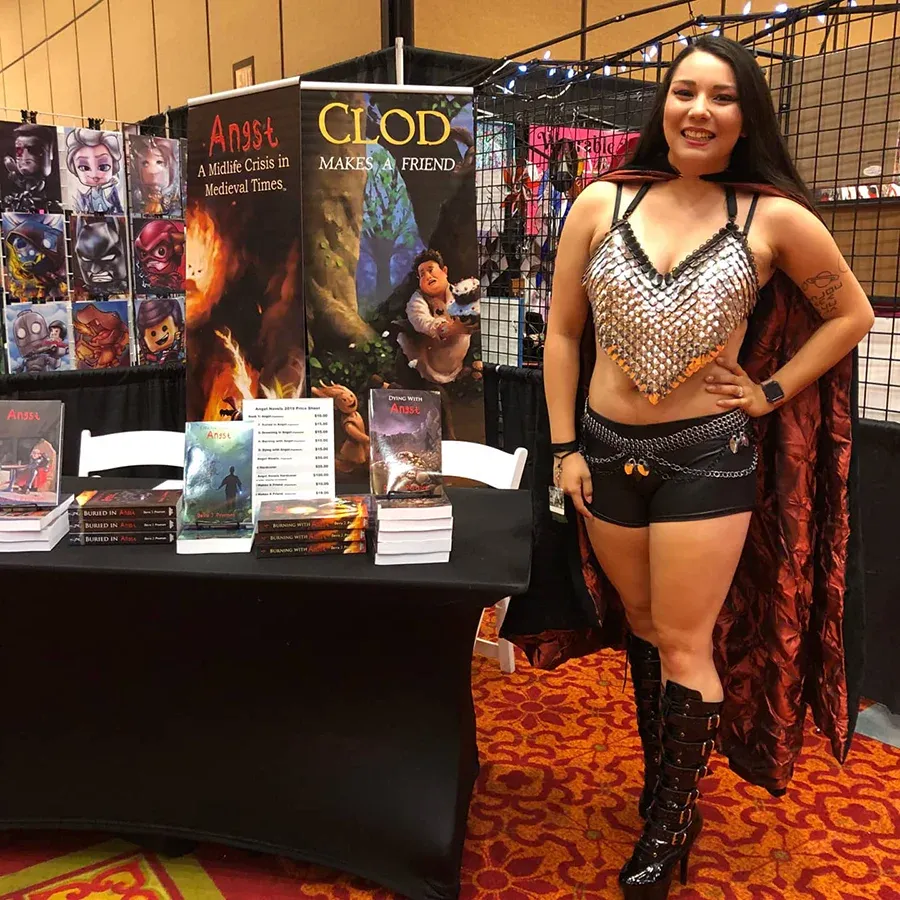 Shenanigans
Let me start with shenanigans, because cons and stories should have them. Sarah and I discovered two years ago that when we dress nice and go to dinner, nosy people flip-the-fuck-out. She's obviously not my daughter, and we couldn't possibly be friends, so there must be something insidious going on. (I promise, there is – we're screwing with you.)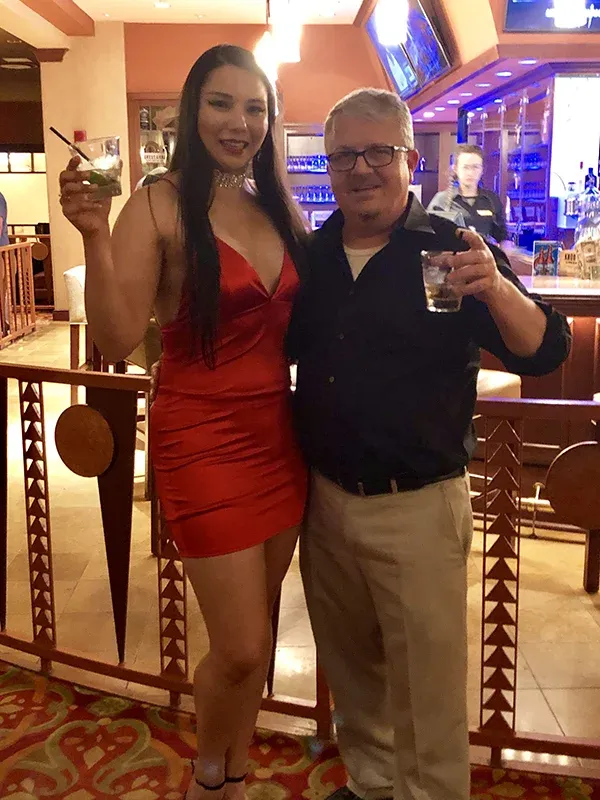 Normally we hit up one nice dinner. Being our last con and my birthday weekend, we went out three nights. As she says, she wore a "costume" every night. She wore them well. Sarah is sharp as she is beautiful, and we laughed at every stink-eye we earned.
One of several highlights was pulling into the hotel parking lot playing Patrick Barnitt's beautiful crooner music on Spotify. An older couple walking to the hotel stopped to figure us out. I doubled down our show by cranking up the music, hopping out of the Corvette, and dragging Sarah out for a "slow dance." If you stood close, you would have seen how unromantic our dance was. I didn't hold her close, we laughed raucously, but the illusion was winning. The dropped jaws and shaking heads were worth it.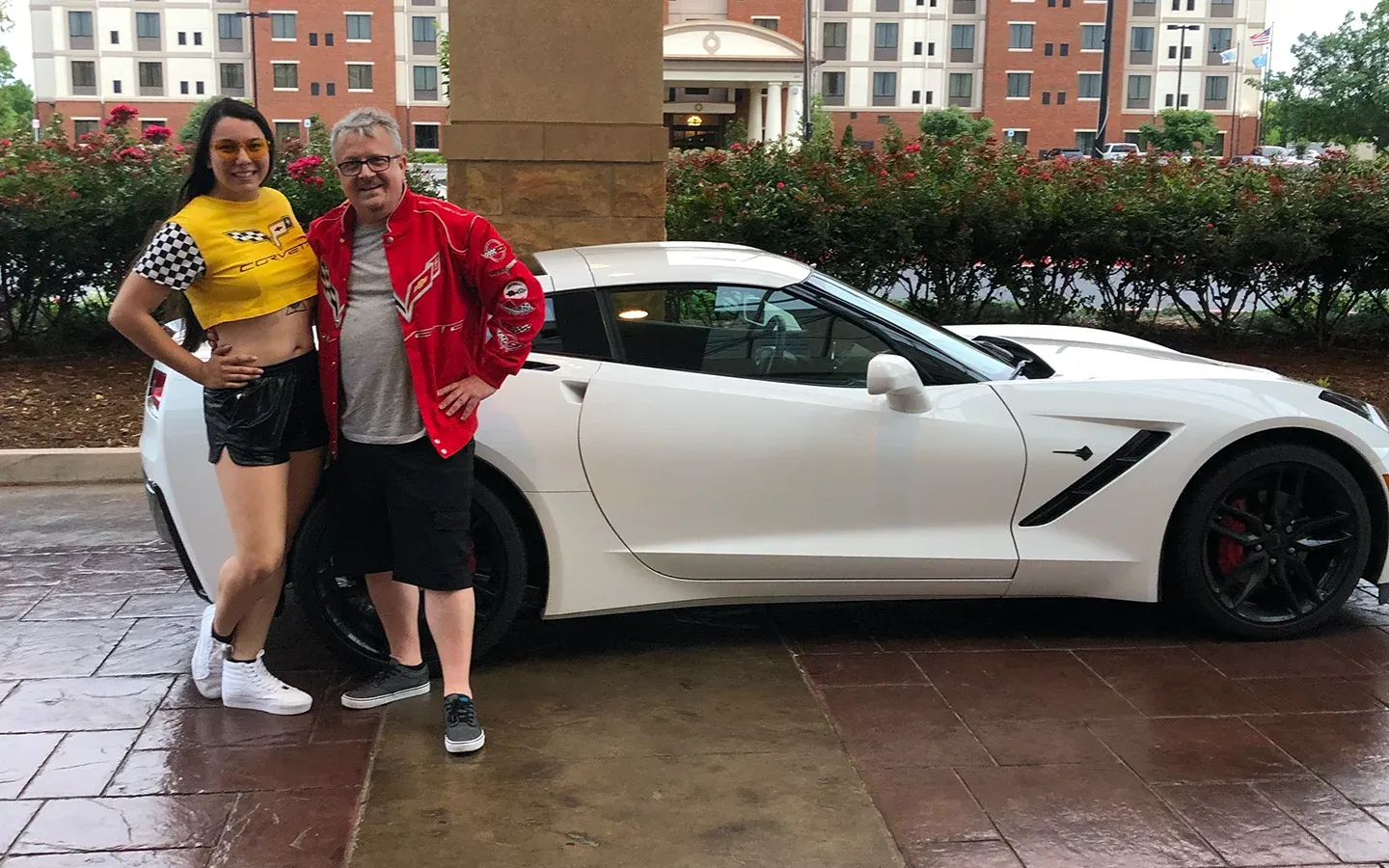 Worth the Effort
The next day, a young man and his wife stopped by the booth several times. He owned the first book, was interested in the rest, but seemed nervous. I didn't get it until he stopped by long enough to tell me how much Angst meant to him. He related to the book, and the character. After picking up books 2-5 he asked for a picture with me. I told him no and… just kidding. I consider this far more than a compliment. Sharing why he loved Angst and taking the picture meant a lot to him, I promise they meant more to me.
Stepping back for a bit of context, in May of 2018, I received an email from a gentleman. His wife, Anita, owned the first four Angst novels. She had passed away that February and he wanted to know if there would be a final novel to complete the set. I emailed him when it came out and – fast forward to present day – he came to Soonercon to pick up a copy of Dying with Angst.
After a thoughtful conversation I gifted him a copy of book five. That's when he lost it, and that's when I lost it. We hugged it out, partly to compose ourselves. It was a heart-warming gift that I could be a part of their story. I'll never forget.
Time with Friends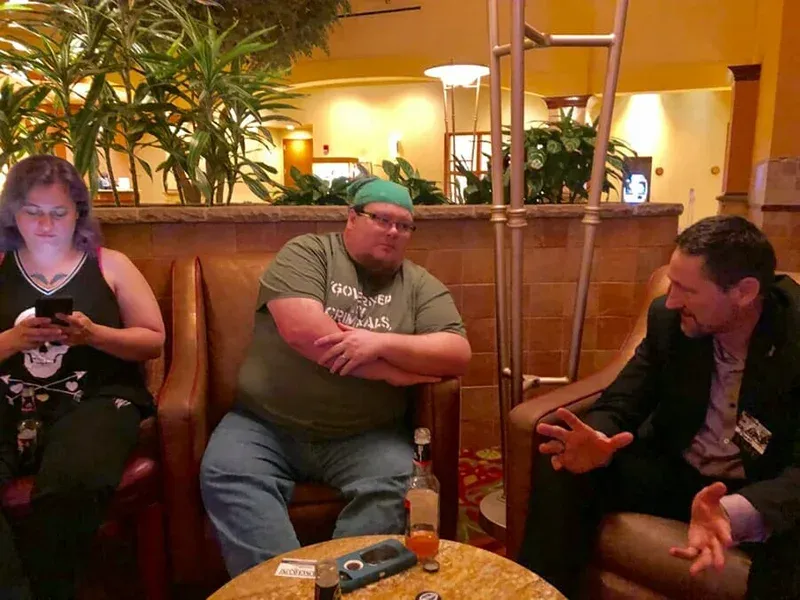 Shortly after he sat down, it happened. One of the folks from Soonercon popped over to ask the con guest a question. When he learned I was the Angst author, he flipped out. It was a fan-boy moment I've never experienced as he enthusiastically lauded me with compliments. I, in turn, fan-boyed over how much I love Soonercon. (It's true.) Pretty sure I was blushing, and pretty sure I still am.
Saturday night, Beth, a friend and regular at Soonercon, invited us to join her for a bottle of German spiced holiday wine that I enjoyed, and Sarah enjoyed more. Adam and Ash joined us once again for some great conversation. The wine was great and the companionship was better.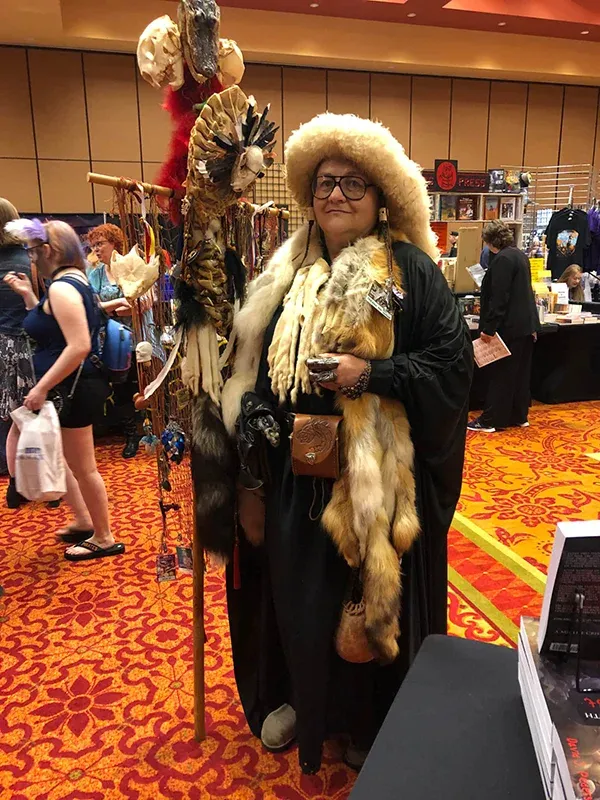 Thank You
This. All of this is what cons have meant to me. Those moments, those friendships, those shenanigans, and those memories. I've spent more money than I've made. I've also made more friends than I deserve. I have no regrets. Not one.
I have a lot of people to thank for these years. I wouldn't have been there without the support of my incredibly patient wife, Angie. Thank you to my muse Allie for being the first. Thank you to Marina and Mayra for being the party and letting me "spoil them." Thank you to Sarah for making this last weekend both special and memorable. Thank you to Cristi for being my main muse and best friend all these years – and to her husband Brandon who was so supportive along the way.
I couldn't be more grateful to the conventions and everyone who made them possible. Thank you to the friends I've made, who are too numerous to mention. Thank you to those who have read my books; you keep me writing.
All good things… While I could say, "All good things come to an end." I'd prefer to look back at these great experiences as all good things. For me, cons have been so much more than selling books. I'm grateful to say I've sold thousands. Half of my book sales have come from putting books on a table. That's hard to give up, but not nearly so hard to give up as lives touched, as people met, and as friends made. While this may be the end of my con-going as a vendor, I would be hard-pressed to give up conventions entirely. You never know where I may end up next.