Writing Update
Change Is Tough
Making a few changes to be more productive.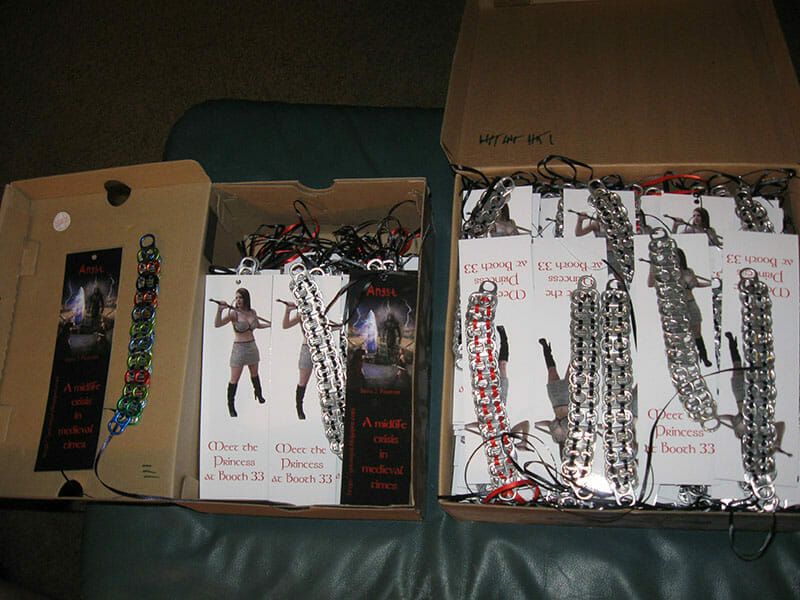 As much as I loved writing Angst, my reasons for writing book two have changed. My original drive to, "climb a mountain because it's there," has passed and I find myself easily distracted by side projects. I need to make some decisions, but change is tough.
Bracelets
We will be attending a new Science Fiction and Fantasy convention in Kansas City called ConX. My good friend Allie had the idea of making pop tab / chainmail bracelets for a convention gift bag. The idea was excellent, especially since it ties in with the costume she wears at the shows. We also planned to attach the bracelets to Angst bookmarks. I had no idea it would take so long.
Time Sink
The con required at least 200 bracelets to participate, and it took 10 minutes to make each one. If you add in the time washing the pop tabs, clipping off or bending pointy ends, and sorting out the bad ones – this project took about 40 hours. My wife and daughter helped as much as they could stand, I'm more than a little grateful.
Worth The Effort?
Time spent on projects like these makes me question my sanity. Actually, it makes me question the value of a time sink like this one. I loved writing Angst. It was like working out – I didn't always look forward to it, but I always felt good about it when I was done. I didn't enjoy spending 40 hours making chainmail bracelets, I do believe it will make for a fun con prize. But, it really makes me question how I should be spending my time.
Change Is Tough
In my free time, whatever that is, I've been reassessing how I spend my time. Some things I do are rewarding, while others make me smack my forehead and say "what in the world was I thinking". I need to make some changes. It's hard to walk away from things you've spent time on. Whether its relationships, jobs, passions, hobbies… each has a personal value that only you can measure. But if you don't change bad habits, you will never achieve your goals.
Change Is Healthy
Abandoning stuff in my life that is negative, or projects that hold me back, will help me refocus on what's important. Writing the second book has been a challenge. Even though my reasons for writing are different, I'm driven by a desire to see the story told (and it's going to be a hell of a story).
Worth The Effort!
I'm truly inspired by everyone who has read Angst and enjoys it. Whether it's a tweet thanking me for the story, a review on Amazon saying the book made them laugh out loud, or a blog post where I can tell the reader understood what I was trying to say… It's fulfilling in a way I hadn't expected and I'm quickly coming to realize what truly drives me to write. Thanks for helping me change.