Conventions
A SoonerCon Adventure!
Cristi and I attended our first SoonerCon and it was an overwhelming success. I couldn't be happier, in spite of some challenges that we faced.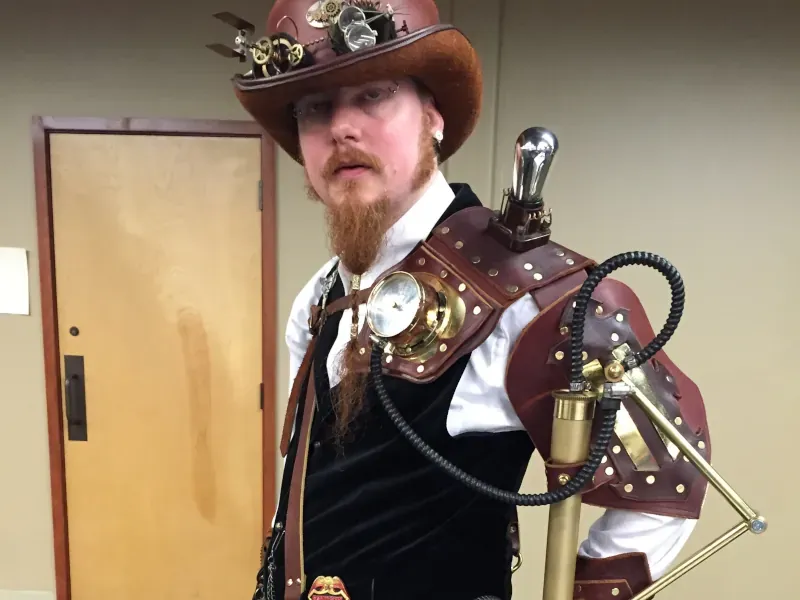 I don't know how to work smart. I'm not sure if I skipped that day of class or if the universe is conspiring against me. (Well, it is conspiring against me…) I do, however, know how to work hard. As they say, it pays off. Cristi and I attended our first SoonerCon and it was an overwhelming success. I couldn't be happier, in spite of some challenges that we faced (which had nothing to do with the con.)
The Scenic Route
On Thursday evening, I drove the five hours from Kansas City to Oklahoma City. If you've ever driven the route, its very scenic, all of the grass fields you would ever want to see. It actually went pretty quickly, thanks to the audiobook of Jim Butcher's fifth Dresden novel Death Masks (I'm loving his work!), and I arrived in time to set up my table. I was a little worried when I found myself tucked away in the far back corner of the vendor room, but as I said, it was our first time attending so not surprising. I crashed hard and fast after a long day, which was good because the convention went from 10am – 7pm on Friday.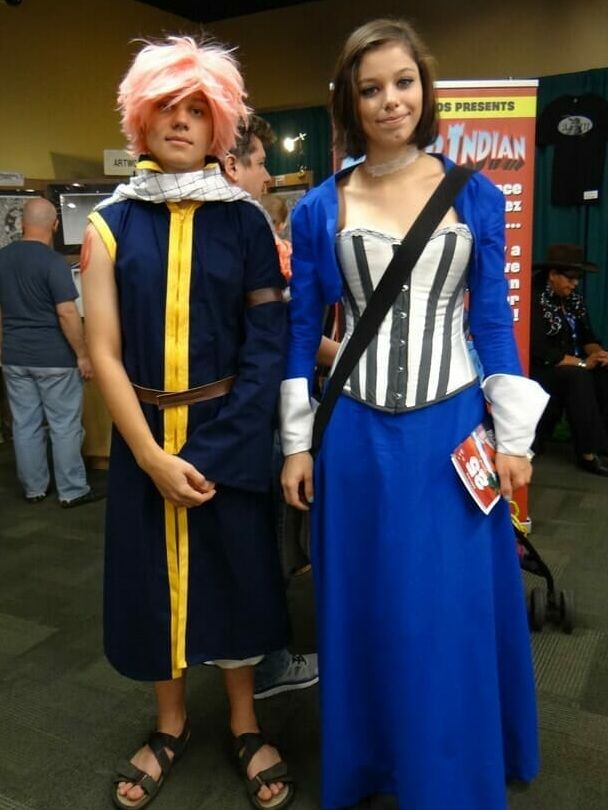 10 a.m on a Friday? Yes, please!
Who starts a con at 10am on a Friday? Apparently people that know what they're doing. Friday is often a slow day at cons. People aren't always able to take off work. That wasn't the case at Soonercon. It was, hands down, the best Friday I've ever had at a con. I was floored. Everyone I spoke with was gracious, welcoming, and happy to listen to me talk about my Angst.
I absolutely love meeting people and making friends at cons. Wes Bowen had the table next to me, and turned out to be a great neighbor. I highly encourage you to check out his stuff. After the doors closed, I had a really nice dinner with Carl, a friend I made at a con several years ago.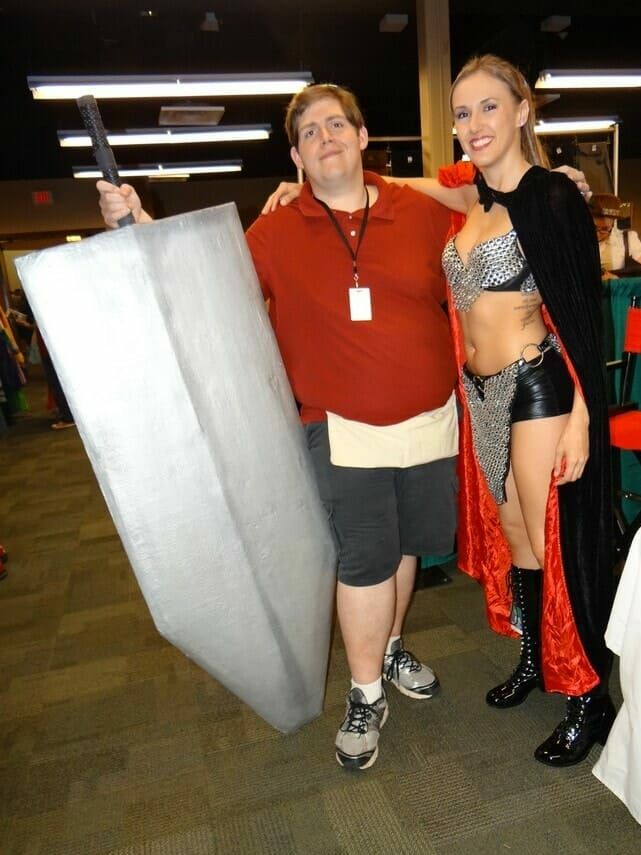 American Airlines – aka FuAA
Everything was going smoothly until Friday night, when it seemed the universe again had other ideas about my plans. Cristi wasn't available to drive down with me, and had a flight scheduled to arrive at 11pm which, of course, had a layover in Dallas because that's on the way to Oklahoma City. :/ Her flight was delayed so I called F#(!ing American Airlines (new name) to ask if they could hold her connecting flight to OKC. I was monitoring times on my laptop while on hold, for 15 minutes, when the flight went from On Time to Cancelled. Fuuuuuuuuu!
When someone finally answered from FuAA, I asked why the flight was cancelled and was told weather. I then asked when the next flight would be, and the attendant didn't know. I told her how disappointed I was, and she hung up on me. She hung up! It was 9pm, and I wouldn't consider ditching Cristi, so I hopped in my car and headed to Dallas.
Dallas
She messaged me on the way, worried about her flight being cancelled. I replied 'omw'. She said, "No, I'm not in Oklahoma, I'm in Texas." I answered, "Yup. I'll be there in two and a half hours. Get your luggage, and I'll pick you up." Cristi attempted to get her luggage, but the hate-filled FuAA employee in Dallas told her it was already on its way to Oklahoma and would get there when it got there. Cristi threw in the towel, found a bar, and I drove.
Needless to say, when I arrived at midnight, Cristi was in great spirits. I'm glad we didn't get pulled over, because even though I wasn't drinking, I probably would have gotten a DUI just from sitting next to her! I couldn't blame her, and I was totally jealous. Our usual Friday night con plan is to hit room parties, and I'm glad one of us got to relax. She deserved it!
Sleep? Bah!
We arrived back at the hotel at 3:30am and I passed out around 4ish. I woke up before my alarm, giving me enough time to find coffee and be con-ready at 10am. I spent the rest of the day meeting more amazing people, being impressed by loads of costumes, and selling even more books. I even bumped into the special guest, Robert Picardo, in the hotel lobby. I gave him a surprised, "Hi!" and he politely said hi back. I could immediately tell he was pretty cool, and from the pics I've seen he was an awesome Guest of Honor.  After the vendor room closed, Cristi and I both power-napped, grabbed dinner, and wandered the halls for awhile. Room parties were sparse, but that's probably for the best because I needed the sleep.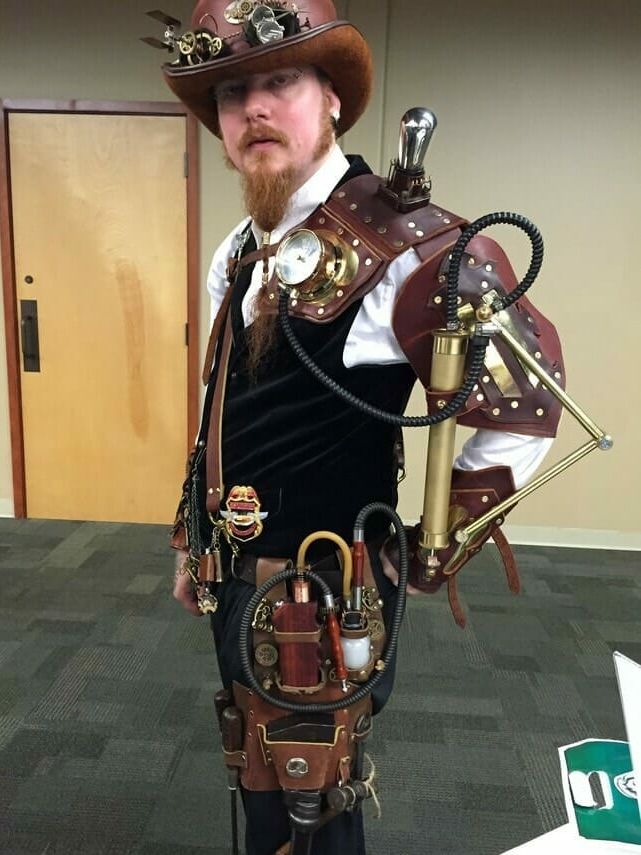 Have I Told You I'm A Famous Author?
The Universe must have turned a blind eye because something cool happened. If you follow my blog, you know I go to quite a few cons. We see a lot of amazing costumes, and a lot of beautiful people wearing them. When I see a gorgeous woman that really stands out, I'll lean over to Cristi and say, in my smarmiest voice, "Have I told you, I'm a famous author?" It's one of my favorite "indie-author pick-up lines", and totally meant to be a joke, so she made it into a shirt for me.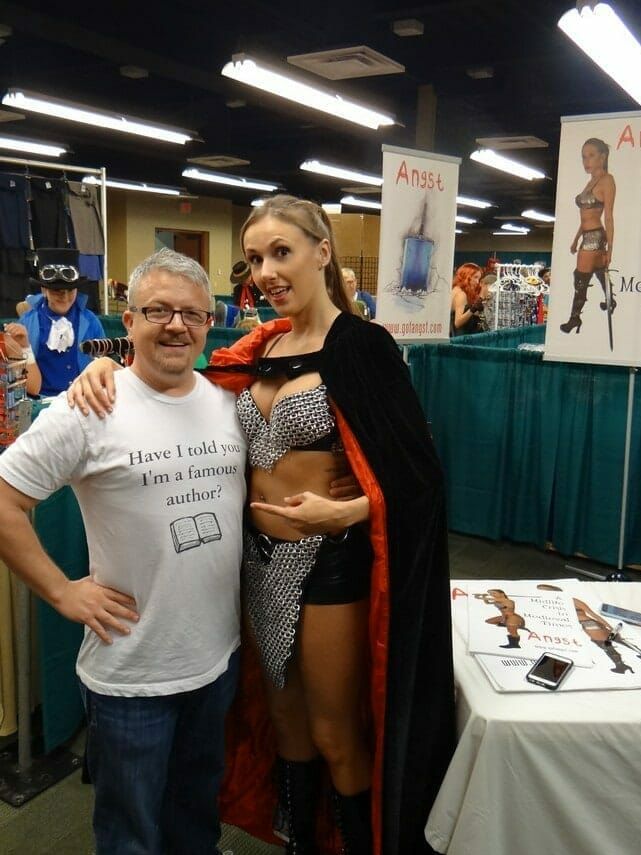 Famous Author Shirt
Anyway, I was on the elevator with a bunch of con attendees, wearing the "famous author" t-shirt, and someone asked if it's true. I said, "I'm not famous, but I am an author promoting my book series." The person asked, "What series?" I replied, "The Angst fantasy series." As if on cue, everyone on the elevator nodded and smiled, indicating they recognized the books. I felt like I was being punked! I couldn't believe the reaction, but they genuinely knew who I was. I was both flattered, and humbled.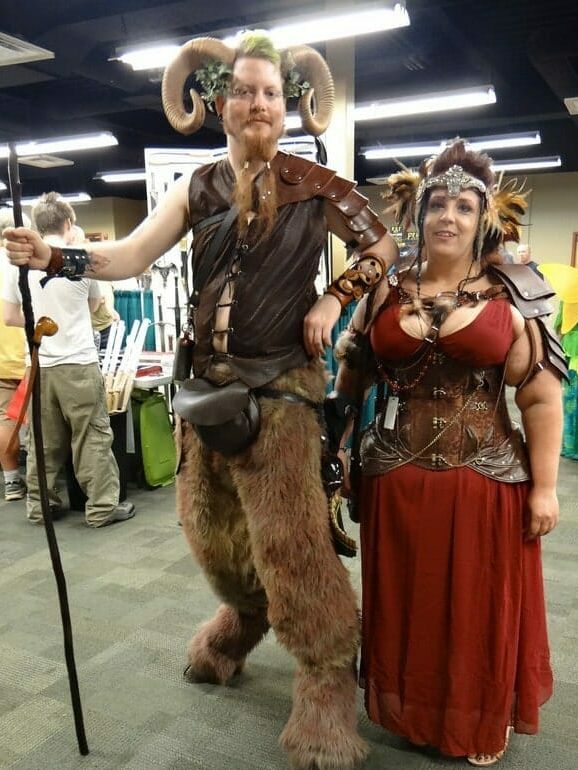 A Great Soonercon Adventure!
Sunday was more great stuff of book sales, nice people, a few costumes, and heading home. One woman, who kindly purchased the first book, said that next year she may cosplay as Cristi and ask me to sign her. Did I mention this was an awesome convention? That was never on my bucket list, but it is now.
This con was one of the best for book sales, and I made new friends, and I had fun. As always, though, I also had to work really hard for it. There are probably better ways to write, to con, to live, but I haven't found the guidebook yet. So, until someone says, "Why didn't you just click this button? That's all you had to do this entire time!" I'm just going to keep plowing through the challenges the universe keeps throwing at me until I get what I want. I hope you'll continue to join me in the adventure!