Life
Leader of the Band
A few memories about my amazing Marching Band directors.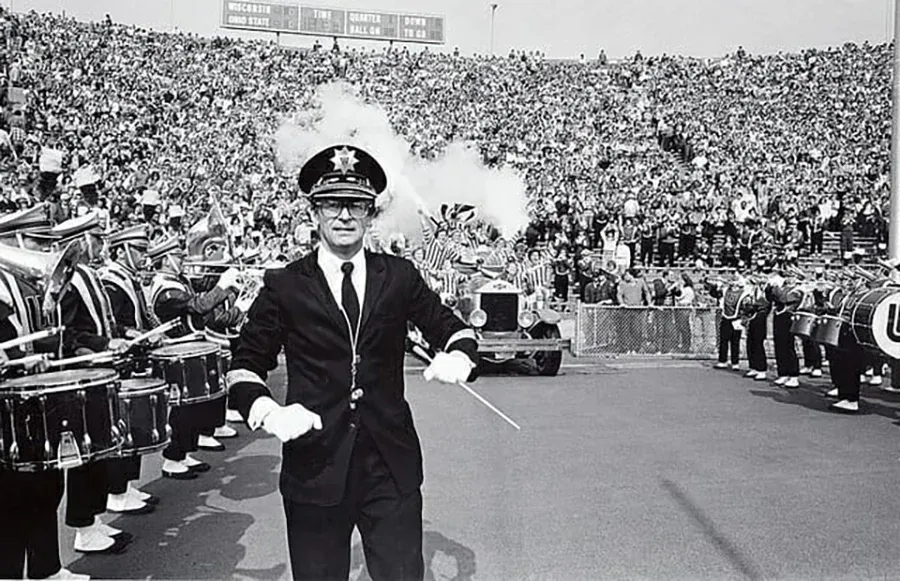 I remember.
I remember meeting my first Marching Band director in 2nd grade. I was at a restaurant with my parents and Mr. Shaffer was at dinner with his wife, my 2nd grade teacher. He was a kind man, and so very encouraging. Even 40 years ago, I remember.
At the end of my junior year of high school I tried out for drum major and knew the band would support me. It was just a feeling. During the final challenge, when my competitor commanded the band to attention, they did. Later, when I commanded the band to attention, they did with such ferocity, with such compassion, my director knew, and I was Drum Major.
It was an honor, and an experience I couldn't be more grateful for. It was about the band, it was about leading, but it was also about him. The band director always carries such a great amount of respect.
I had given a piece of my soul to high school Marching Band, and had no intent on doing that for college. I would be a free man. I would march to my own drum. And then it happened. The week before classes started I was riding my bike along lake Mendota and I saw them. Thee University of Wisconsin Marching Band marched like nothing I had ever seen.
I didn't want to march in college. I wanted free time, I wanted space, and yet, there they were. 250 kids marching with intensity, their knees stopping at the top, their toes pointed down. I could feel their passion and drive. They were eating rocks. They were marching in line, from yard to yard, until Mike Leckrone finally said stop.
There were a few strong words from Leckrone, telling them that they could do better when I saw perfection. I dropped my bike and scurried up to Leckrone and said, "That was the most amazing thing I've seen, and more than anything, sir, I want in." He looked at me sincerely and said, "This isn't the army, don't call me sir. Now go find a spot and start marching." I did, and didn't stop until I graduated.
When my high school band director, Don Shaffer, retired, I threw him a surprise party. I wanted to honor him, someone I had known since 2nd grade. The high school staff printed out all of the addresses they had of his past band members (an arduous task back in the day). I sent letters to them, rented a room in a church, and bought a cake. "Leader of the Band" by Dan Fogelberg was playing when Mr. Shaffer walked into a room full of old faces. Maybe it was corny, but it was right. I'd like to think enough of us where there to make him feel loved. He was.
Mike Leckrone recently announced his retirement on his 50th Anniversary as Marching Band Director of the University of Wisconsin Marching Band. Fifty years of doing anything isn't a job, it's a passion. I'd love to throw him a party, too. That's a little tough to do for a man who has known thousands of students over the years, and I have no doubt that they will all honor him in their own way. Many of my alumni friends will be doing just that when they take the field this weekend. My heart and soul will be with them.
Over the last year, I had the pleasure of seeing both of my band directors. It had been a very long time. I saw Mr. and Mrs. Shaffer in a parking lot, and flagged them down for a hug. I shook hands with Mike at the end of a band practice. Mr. Shaffer was wise, and taught me great things. Leckrone pushed me like nobody else. They both helped make me who I am.
I had a great job doing video production in college my senior year, and even shot some footage of Mike for our spring concert. My dad called me last weekend to share that ESPN showed a part of that video during last week's game. How cool is that?
It's hard to explain Marching Band to people who weren't in it. The UW band practiced every Saturday morning before the game. One day during my senior year, I marched with a camera in hand instead of my trumpet. I put it all together in a video to "Right Now" by Van Halen. The year after I graduated, my dear friend Becky shared that video at the Marching Band banquet. She introduced it with a speech I wrote. I don't recall all of it, but the end is still true to me. You may leave band, but band will never leave you.
I remember.
To my friends, and everyone marching this weekend: Eat A Rock.
To Mike Leckrone: We'll see you real soon, and On Wisconsin!