Life
It started with a good man
A handwritten letter from a reader was incredible, and then this happen.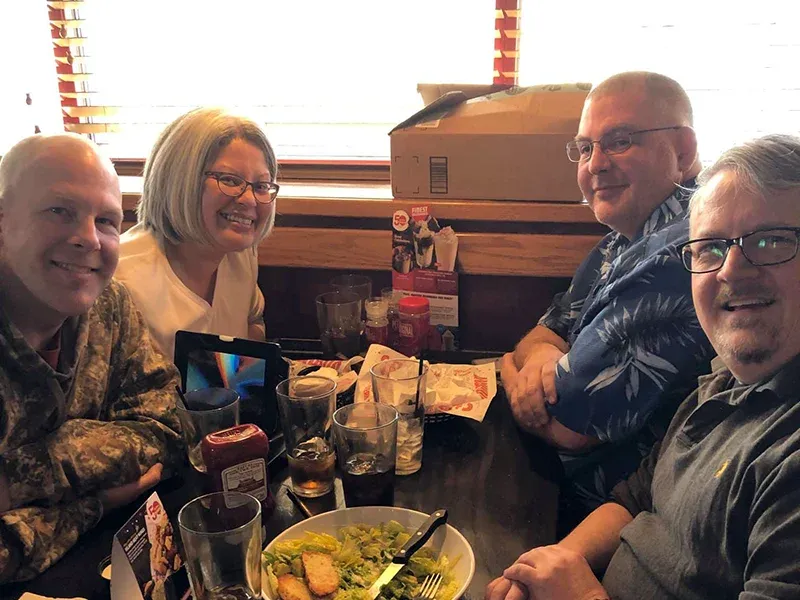 I've given away plenty of books over the years to friends, co-workers I like, or kind people who deserve something more than a high-five. I consider it a personal way to say thank you. Sure, I hope they are hooked into reading my stuff. While always appreciated, I rarely hear anything and am convinced that most have gone unread. On the rare occasion, someone will say, "Hey, I've still got that book you gave me." I always expect that to be followed with, "it's the perfect height for leveling my grandma's old chair."
The Picture
Five years ago, I found dry rot in the siding of my house. It was my own fault for not painting sooner. (What can I say? I was busy writing.) Being cheap I decided to repair it myself and placed an order with Sutherland Lumber.
The delivery driver, Brent, was both kind and helpful. After mentioning that he was a fan of the Kansas City Renaissance Festival, we soon began comparing nerd hobbies. I eventually shared that I wrote a series of fantasy books and sold quite a few at conventions thanks to my muse, Cristi.
I always joke that people enjoy talking to me at cons but would much rather look at Cristi. (Not really a joke.) At larger conventions, Cristi will wander while carrying a copy of Angst. People will often stop her to take a picture. To my surprise, Brent had a photo of Cristi rocking one of her chainmail costumes at Planet Comicon. I thought that was pretty cool and wanted to thank him for the delivery, so I gave him a copy of Angst.
The Letter
Months later, I received a handwritten letter from Brent. Not only did he love Angst but had read the other books and shared the series with his friends. I'm always grateful when I receive positive reviews on Goodreads and Amazon. Every email, message, and tweet readers have sent thanking me for Angst mean everything. In this digital age, a handwritten letter is unheard of. To this day I'm moved that Brent made the effort. It was a wow moment. As a writer I consider that letter a prized possession.
The Indiegogo Campaign
Last year I ran my first Indiegogo campaign to create an audiobook for Angst. After a lot of research, I created a top tier perk that cost $500. I threw in everything I could think of and my parent's kitchen sink. All five books in paperback, hardcover and ebook. Art prints of all covers. A hat, t-shirt and book bag. A hardcover photo book of my muses. The audiobook, of course. And to top it all off, the contributor would die a horrible death in Dying with Angst. It was a lot of stuff, but it was really important to me that anyone pitching in that much felt good about their contribution.
Shortly after kicking off the Indiegogo, Brent's brother Scott messaged me on Facebook. Not only was he interested in the top tier, he had a great idea. "I had a fun daydream that we were a two headed monster with one head named Scott and the other Brent, lots of funny arguing between the two of us." This was so very perfect. In Dying with Angst, Angst revisits and reconciles with almost every race or nation he met throughout the series. I hadn't considered the Vex'steppe monsters from the first book until Scott messaged and am grateful for the idea. Also, it was supposed to be a surprise for Brent.
The Story
There were two contributions that bought in on that top tier. I didn't take their purchase lightly and was a little nervous as to whether or not they'd like how I wrote them into the story. Both Scott and Brent are members of my Advance Reader Team. A few weeks after receiving their advanced copy of Dying with Angst, I received an incredible email from Scott's wife Jennifer.
"If Angst was played by one of our other friends egging on whatever argument they were having at the time, this whole scenario is very very similar to days when we all hung out at their house as kids minus the violence (some of the time) thank God. This scene is hilarious. Thank you for the rather odd trip down memory lane. Well worth it. Sincerely, Jennifer, A New Angst Fan"
It was another wow moment, and also a relief. It was really important to me that they felt their contribution was money well spent. Just as important, I wanted them to enjoy it. The scene also had to fit into the story. I couldn't be more grateful that it all came together.
The Lunch Meeting
Part of that top tier included a 30-minute Skype conversation. Instead, I enjoyed a nice lunch with Brent, Scott and Jennifer. We talked a little about Angst, and my next project. More importantly we shared our fandoms from Star Wars and Doctor Who, to Magic and board games. It wasn't just about meeting my readers, it was making new friends.
This. All of this is why I do it. This is why I write.